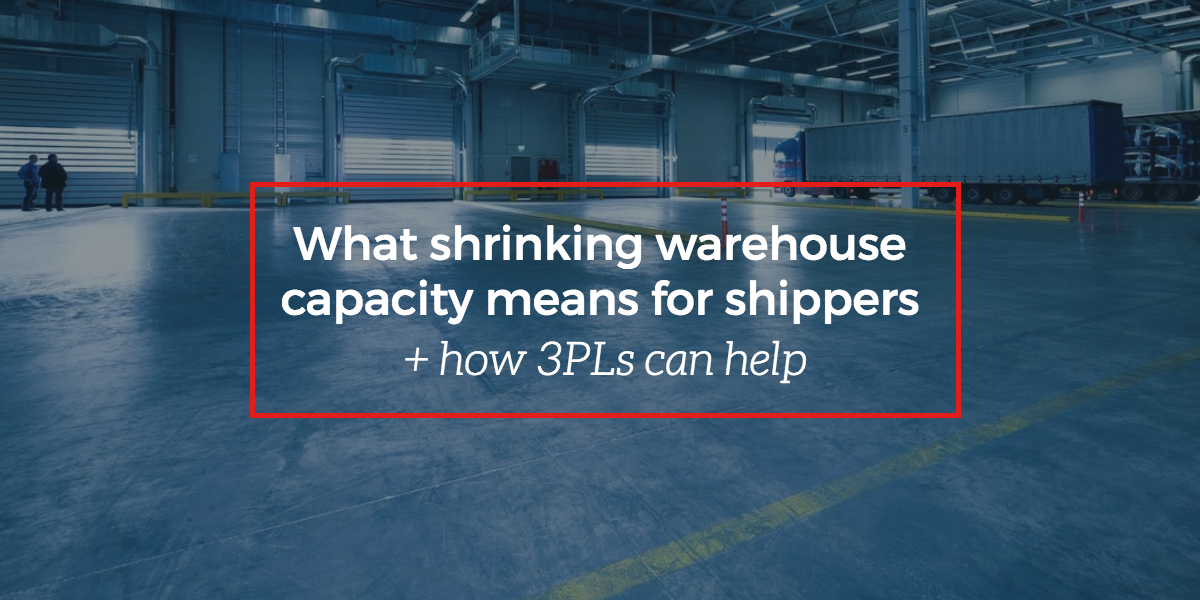 Available warehouse capacity has been on a downward trend for 32 quarters in a row. Companies are looking for bigger, smarter, and more flexible warehouses—but they aren't being built fast enough to meet the booming e-commerce demand.
Building new warehouses is difficult because real estate availability is often rare in urban areas where demand is highest. Meanwhile, existing warehouses are less tech-savvy and slow to upgrade their operations. To serve today's consumers, warehouses will need to evolve into an intelligent component of the entire global supply chain. In the era of ecommerce, an agile supply chain is critical to maintain a competitive edge.
However, supply chain and logistics professionals under intense pressure with expensive leases, rising freight rates, tight capacity, lofty customer expectations, and omnichannel challenges. In light of a rapidly changing industry, supply chain leaders need a thorough and modern approach. This is where a third-party logistics provider (3PL) can help: by supporting warehousing and distribution efforts with end-to-end logistics solutions and management.
In this article, we'll explore how partnering with a 3PL can help power your fulfillment network amid tight warehouse capacity.
Better technology and software
Warehouse management system
In the e-commerce landscape, it is crucial to optimize your warehouse logistics so the right goods reach the right customers at the right time. When efficient fulfillment is the name of the game, logistics professionals need adaptable solutions to streamline the whole order fulfillment process—from consumer point-of-purchase to all the way to final delivery.
A resourceful 3PL can offer best-in-class tools like warehouse management systems (WMS) to streamline order processing, improve visibility, and fulfill a mix of eclectic order profiles.
Real-time inventory solutions
When the right technology is integrated with major e-commerce platforms and marketplaces, it's easier to track and sync all your inventory under one roof. With real-time inventory solutions, you can monitor your quantity levels to reduce out-of-stock conditions. You can also refine your inventory management further by using historical data to predict purchasing and production trends.
Meeting customer demand can be a huge undertaking, especially during peak holiday season. But working with an expert logistics partner can help you scale your operations using the tools and technology best suited for your needs.
Flexible configurations and consolidation
Product customization
Most retailers send items directly to consumers, which may require return labels, printed catalogs, or even handwritten notes. A logistics partner can offer specialized fulfillment services to provide customized assembly and packaging to optimize your B2C strategy. They can also help manage the challenges involved with custom packaging and assembly, as well as many other distribution needs.
Transload/cross-dock services
Consolidation strategies (like cross-docking and transloading) allow companies to receive goods and separate them by priority, destination, SKU, or store location before they deliver the products to the final destination. These services can increase throughput and reduce delivery times, supply chain cost, and footprint.
Mega-retailers like Amazon and Walmart have innovated using these practices to fulfill their promise of two-day or same-day deliveries. When efficiency is critical for competitive advantage, it's a good idea to reach out to a trustworthy 3PL to find the best course of transport for your goods.
Retail consolidation
This logistics practice allows retailers to optimize shipments routes by combining their freight from multiple vendors or at consolidation warehouses. A 3PL with access to distribution centers across multiple locations can help you consolidate your cargo in more efficient routes. Additionally, you can take advantage of their cloud-based technology to route orders to the warehouse closest to the destination. This can save you time and money while allowing you to keep up with the turnaround times your customers demand.
Optimal shipping strategies
Inventory postponement
With so many possible variations of the final product, supply chains need to meet retailer needs without bloating the inventory pipeline.
To avoid overstocking, shippers can adopt a postponement strategy to minimize risk and improve efficiency. This approach allows shippers to delay the final product configuration until the very last moment. By postponing products to meet demand, you can reduce inventory pressure, lower transportation costs, and maximize profits.
However, managing inventory postponement while maintaining quality output can be tricky. An experienced 3PL can help you develop a custom strategy that works best for your product line.
Last mile delivery
A trusted 3PL can help improve the customer experience by ensuring all items are packed, labeled, and shipped correctly. By using last mile delivery solutions, white glove services, and quality checks, a 3PL makes sure your shipments are in the best of hands. From the first touchpoint to the final mile, a reliable logistics provider can check all the requirements and provide exceptional service—so you don't have to sweat the small stuff.
Investing in the future
A 3PL should be both your solutions provider and a trusted advisor.
At CAI Logistics, we work with a global network of trusted carriers and suppliers to move shipments all over the world. Our experience and industry knowledge help us navigate the complexities of global shipping. We offer creative solutions to deliver our clients' cargo safely and efficiently.
If you're looking for more ways to optimize your fulfillment network in the current tight market, download our free guide and get instant access to the best capacity strategies for supply chain professionals.