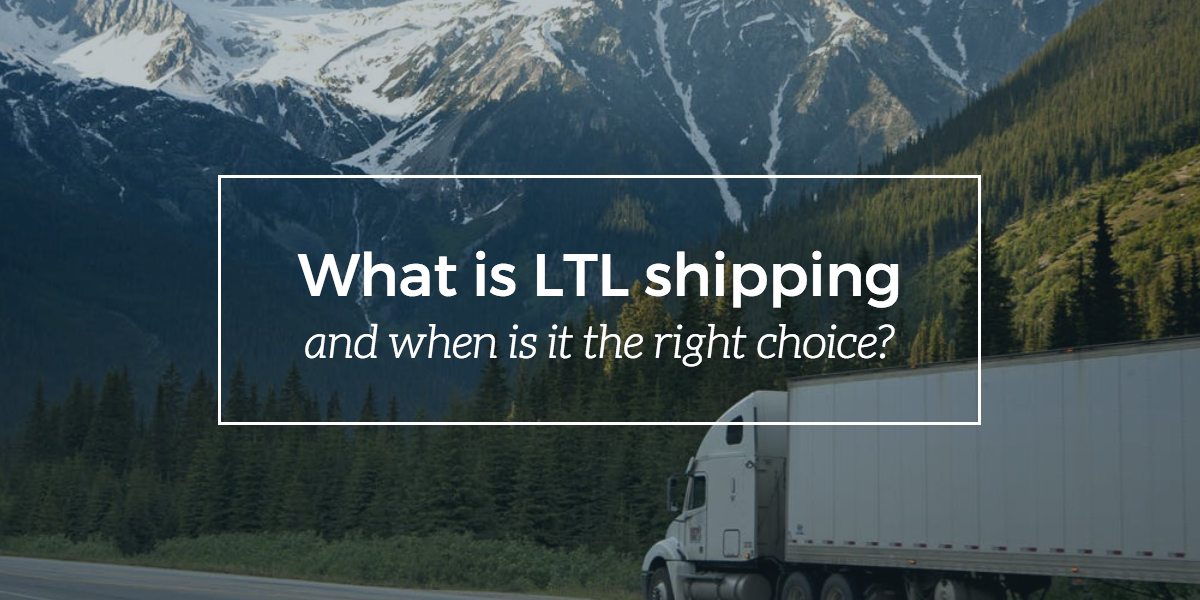 People who work in the transportation industry may still be scratching their heads at how 2018 is shaking out so far. While demand generally shrinks in the first few months of the year and then tightens again in advance of the holiday season (sometimes as early as July or August), this year has bucked that trend. Carriers and 3PLs have consistently stayed busy since January trying to meet shippers' demand for capacity, without a slowdown on the horizon.
With competition and costs for available truck capacity higher than many shippers are used to, supply chain managers at growing businesses may start seeking solutions they haven't considered before. Intermodal shipping is one example; the use of a combination of train and over-the-road transportation has certainly helped some companies keep their costs down. Another approach has also started to gain steam in the current logistics climate: LTL shipping.
What is LTL shipping?
Less-than-truckload shipping (or LTL) is a way for shippers to pay only for the capacity they need to transport their goods. Much like full truckload rates, class and lane (pickup and drop-off locations) of the shipment factor into LTL rates. Where LTL rates differ from truckload rates is the consideration of weight and volume. When a shipment isn't big enough to necessitate a 48- or 53- foot container, it may make sense for a shipper to send their goods with an LTL carrier instead of paying for more capacity than they need.
As with many other specialties in the transportation sector, there are entire companies who have built their reputation managing LTL shipments. Historically, LTL carriers have occupied their own niche in the industry, catering to specific sizes and kinds of shippers. Because their loads require a different kind of planning in order to maximize capacity, and often involve complex hub-and-spoke terminal networks, the barriers to entry in the LTL sector have caused the majority of carriers on the market to focus on hauling full truckloads. However, the scarcity of full truckload (FTL) capacity in 2018 has made LTL more attractive to some shippers and has cleared a pathway for carriers to establish and expand their LTL operations.
When is LTL a good choice?
For smaller companies who are scaling up (such as e-commerce operations), LTL shipping may be a good cost-effective option. In times of more expensive capacity, cost-sensitive companies with smaller shipments may choose to wait until they've accumulated enough to necessitate a full truckload. While this is a workable option, it's not always convenient. LTL shipments offer a way to keep those goods in transit to their destination without having to pay for an entire truck.
However, it's important to remember that when it comes to speed, cost, and dependability, shippers generally need to be prepared to choose the two that matter most to them. At CAI Logistics, we've built our network of trusted carriers by prioritizing dependable service above all. That means finding the best solution for our clients often involves weighing timelines against budget concerns.
The future of LTL shipping
Because of tightened capacity and continued growth in the e-commerce sector, many projections show that LTL is poised to start accounting for a bigger share of the transportation industry. While FTL shipments will still remain the dominant method to move goods, the ability to conveniently send more and smaller shipments will make LTL shipping an attractive option for new companies and growing e-commerce operations.
Wondering if your company may benefit from incorporating LTL shipping into your logistics operation? When in doubt, consult a trustworthy third-party logistics partner to find the best course of action. Depending on your needs, they may suggest a combination of LTL shipments and intermodal transport to get your goods to their destination without breaking the bank, or they may suggest paying for a full truckload to maintain expected timelines.
Whatever the best combination of transportation methods is for your company, it's wise to rely on your 3PL to identify the most trustworthy carriers to handle your goods. By calling upon existing relationships with carriers, or by analyzing a new carrier's historical freight shipping data, your 3PL will be able to negotiate fair rates for your shipments. Not only can they save you money on shipping costs (whether for an FTL or an LTL shipment), they can provide peace of mind that your goods will get to their destination safely.