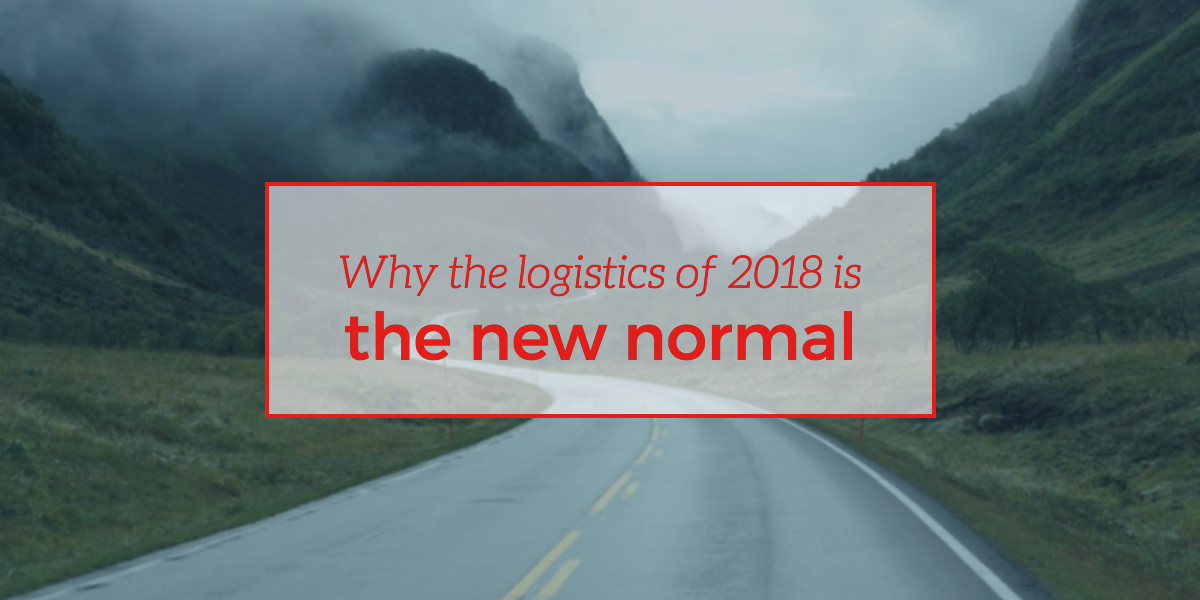 This year has been intense for the logistics industry. Shippers continue to deal with what could be one of the most difficult capacity markets in recent history. Some transportation professionals believe this uptick in shipping rates and lack of capacity will be short-lived. But according to DAT, "this period of elevated rates is the new normal."
To thrive in this new economic environment, you'll need to know what factors caused the industry's current state. This insight will help you develop a more accurate action plan for growth in 2018 and beyond.
1) Economic growth
New consumer spending has caused the economy to grow by 2.2 percent in just the first quarter of 2018. As we enter Q3, the growth rate has risen to almost 4 percent.
"The primary source of the acceleration in growth this quarter is the consumer," said JP Morgan's chief U.S. economist Michael Feroli. In May, retail sales were up 0.8 percent, double what some economist expected. At the same time, oil costs are now $60 per barrel. How do these numbers influence the transportation and logistics industry?
The new demand has transporters delivering at record high volumes. Suppliers have to navigate through the driver shortage and do their best to secure capacity in this hot market. Because spending continues to grow across all industries, it looks like high-volume logistics is here to stay.
2) Redrawn shipping patterns
E-commerce has made a profound impact on the way we do business. In the 2000s, shopping online was a seasonal activity or a last resort to buy products we couldn't find in stores. Today, e-commerce is now commonplace.
The retail freight season used to hit its peak in October. As e-commerce developed, another freight-season peak emerged. By 2018, peak season now starts as early as July or August to prepare for the holiday shopping season.
In the last five years, e-commerce has grown at a steady rate of 14% per year. With high levels of growth, customer demand has become difficult to predict and has caused a strain on last-mile capacity.
3) Less flexible drivers
Economic growth, surging purchasing power, booming business, and increased production are all great. But, the transportation industry has to deal with this boom in the confines of new restrictive regulations.
The regulation with the most impact is the ELD mandate. The idea was to make shipments more efficient and transparent. In practice, the new regulation aggravated the existing truck driver shortage. It limited flexibility and turned one-person jobs into team projects.
The ELD mandate has led to longer transit times, and some companies have to shy away from taking longer shipments. You can use modern optimization strategies to help find more capacity in this tight market.
4) Extreme weather
Extreme weather conditions have intensified in the past few decades. Estimates for the US show less overall storms but predict 45-87 percent more category four and five hurricanes.
In 2017, hurricanes Harvey and Irma had a devastating impact on the supply chain. Harvey hit Houston, which is a hub for rail, trucking, and marine traffic. Hurricane Irma destroyed Florida crops, leading to higher prices and a chain reaction that hit many other industries.
When a storm hits a sensitive location, it doesn't just disrupt regional logistics. It causes a domino effect on other domestic and international shipping routes and schedules.
For example, Mexican and South American suppliers had to reroute shipments to Dallas, Arkansas, and other facilities after Harvey. This overwhelmed facilities who couldn't support the traffic. Railroads closed, and many shipments moved to the roads. This lead to a further strain on trucking capacity.
Natural disasters show why safety precautions and backup plans are so important. You can cut down delays by having alternative solutions within your logistics strategy.
Shipping managers should update processes to adapt to the new market and to achieve long-term success. One crucial step is to reevaluate the relationship you have with 3PLs. Logistics partners can help you implement the most up-to-date strategies so you can focus on growing your core business.
At CAI Logistics, we're prepared for the "new normal." We keep an up-to-date pulse on the industry which lets us best prepare for the future. With our expertise, your business will stay ahead of the curve by using modern and efficient logistics practices. Contact us today to learn more.