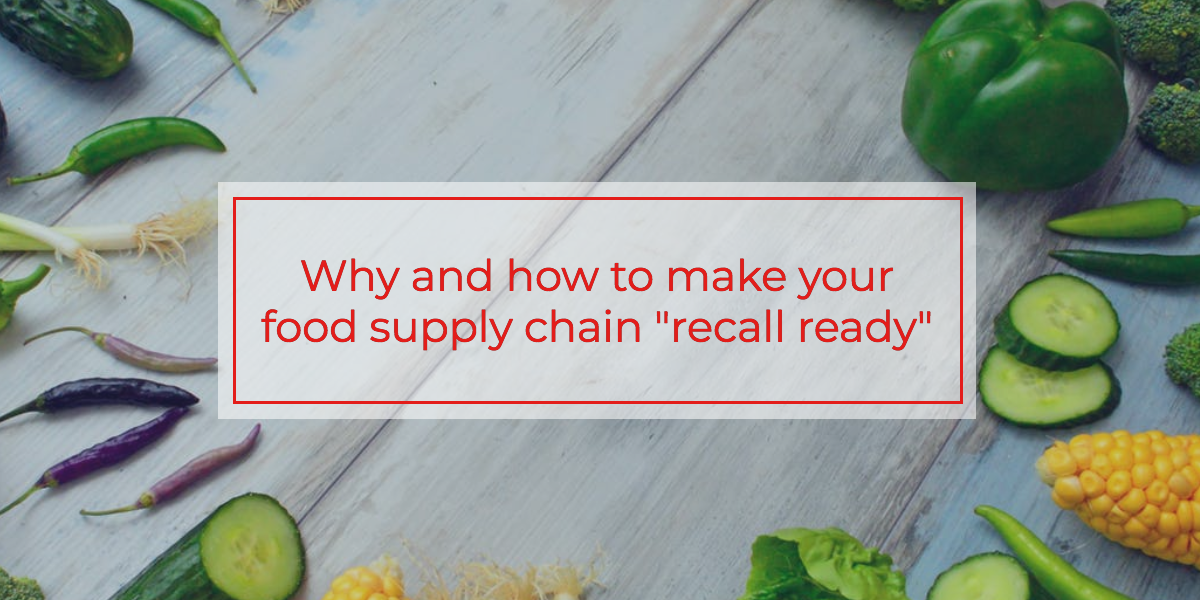 One day the food supply chain is running smoothly, then suddenly a notice alerts everyone about the recall of a product and they have to spring into action. Every link in the supply chain— from ingredient suppliers to storage facilities to the end consumer—has a role to play in the process of efficiently and safely removing the affected items.
The challenges inherent to food recalls reached a critical level in 2018, a record-breaking year for food product recalls. By the end of December, over 650 Food and Drug Administration (FDA) and United States Department of Agriculture (USDA) recalls had been reported — all in just 365 days. That's double the number of products recalled in an average year a decade ago.
Recalls require decisive action
When an item is recalled, every link in the food supply chain has to take specific action. Boxes of the affected product have to be purged from warehouses, and grocery stores have to remove the food items from their shelves and inform their customers.
But what happens on the logistics side? What are you supposed to do when an agency recalls a food product while it's in transit between locations? Unfortunately, there are no easy answers. Even if the problem had nothing to do with your operation, recalls can create delays, escalate costs, and hurt your business's bottom line.
To ensure this doesn't happen, shippers need to proactively prepare plans of action for recalls — in other words, they need to be "recall ready." Preparation is critical, because dealing with recalls without a decisive plan can drive inefficiencies, add to transportation costs, and lead to lost revenue.
Case study: romaine lettuce
The romaine lettuce recalls of 2018 (of which there were three) provide a case study of this issue. While the FDA was announcing the recalls, there were many truckloads of romaine lettuce in transit. Most carriers were simply told by vendors to destroy the product, but were not given a clear course of action about how to do so.
During the November recall, after the Centers for Disease Control (CDC) advised consumers, restaurants, and retailers not to eat, serve, or sell any romaine lettuce during the investigation of the E. coli outbreak, one trucking company told 15 of its drivers to dump their truckloads of romaine lettuce. Dumping the truckloads was a bigger issue than anticipated, with some of the drivers unable to find places that would readily accept the loads.
In this case, the issue did not arise from a failure to transport the goods safely; in fact, the contamination took place much earlier in the production process, which is typical. Even so, distributors and carriers are often relied upon by their customers to provide solutions and support.
Rise in recalls intensifies the risks
As food recalls increase, so does the issue of responding in the most efficient and cost-effective manner. Carriers in mid-transit with a recalled product need to know what to do with that product. The question of how to move forward is not necessarily easy to answer, because federal agency guidelines do not explicitly cover how to handle the transportation of recalled food.
In fact, most recall guidelines and reports skip from how to announce a recall to how to remove the items from the grocery store shelves; the FDA's regulatory procedures manual provides limited guidance for shippers on how to deal with recalled food products in transit.
Adding to shippers' challenge is the fact that the Food Safety Modernization Act and new technology has allowed federal health officials and companies to discover food safety problems sooner and take action more quickly to remove products from the marketplace. According to the FDA's regulatory procedures manual, manufacturers may initiate a recall at any time to fulfill their responsibility "to protect the public health from products that present a risk of injury or gross deception, or are otherwise defective."
While this increased efficiency means a safer public, it also means more frequent recalls. To mitigate potential risks and avoid confusion, food distributors and their transportation partners to have a proactive, rapid-response plan in place.
Becoming "recall ready"
Is your company prepared for the next food recall notice? Here are a few guidelines to help make dealing with food recalls easier and more proactive:
Work with your logistics partners to create a plan of action in advance to deal with recalls. If and when the need arises, this will help you direct carriers about how to proceed.

Create contingency plans for every step in the process. Should carriers take recalled food products to nearby landfills and dumps or back to the food producers for disposal?

Develop good relationships and clear lines of communication with everyone involved in the process (carriers, warehouses, and retailers) so you can all be on the same page when recalls occur.
Food product recalls are a fact of life in today's food industry. Food distributors need an action plan to keep their operations running smoothly, reduce shipping issues, and maintain their industry reputations. There's no reason to go it alone, however; lean on your trusted third-party logistics partner's experience and expertise to help you craft a plan that will protect your company from the confusion, frustration, and unexpected cost that can come with handling food recalls.
At CAI Logistics, we have 30 years of experience providing transportation solutions that meet our customers' specific needs, and we'd be happy to talk about how we can do the same for your company. Contact us today.