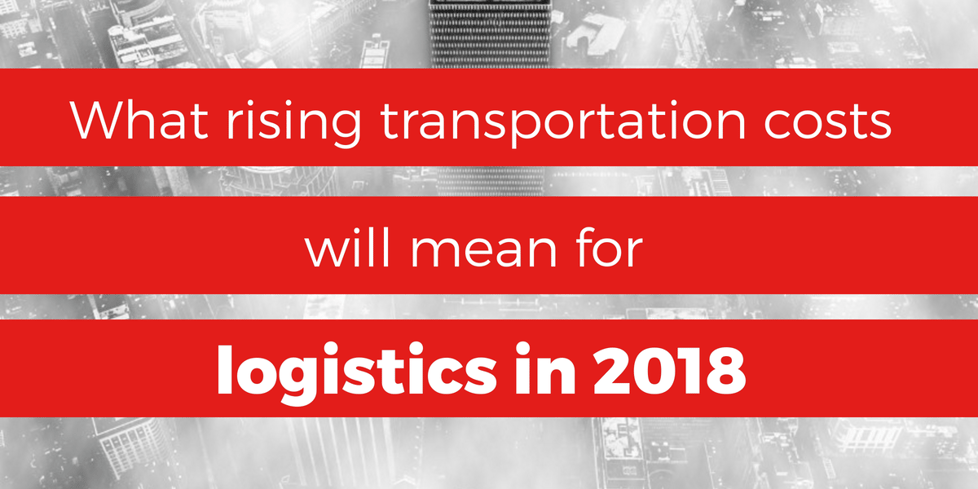 In 2017, we highlighted some of the major themes we believed would color the year for logistics. We included implementing Internet of Things (IoT) technology across more fleets and supply chains, increased infrastructure spending, and tightening capacity resulting from factors like government regulations. Now, as we enter a new year, we're asking again: what can we expect in 2018, and how will it affect our businesses? While we could talk about logistics trends like omnichannel and last mile delivery, we want to address the bigger challenge to the chain: rising transportation costs. Let's look into what's happening in the world of logistics and how companies can take a proactive approach to change in the industry.
Responding to rising transportation costs
As we headed into peak season in 2017, a number of factors like hurricanes, driver shortages, and regulations led to rising prices across the transportation industry. An improved economy and regulations like the ELD mandate have also led to tightening capacity, which increases rates. As rates continue to rise in 2018, companies look for ways to respond. They want to cut costs without dipping into profit margin.
As one response to rising rates, more companies will turn toward technology to improve efficiencies and help their bottom line. Some experts anticipate more mergers and acquisitions to be a part of the efficiency strategy. M&As provide a streamlined opportunity for companies looking to add specialties or niche markets to their wheelhouse while boosting their market position.
The Internet of Things (IoT) has already been a hot topic in logistics. Its promise to increase efficiency, reduce waste, and offer better pricing options makes it attractive. In the face of rising transportation costs, smart companies will take advantage of IoT and complementary technology like blockchain. This will aid in efforts to improve inventory management, tracking, and filling orders. It will also push companies toward proactive approaches to handling issues on the road.


Is blockchain the answer?
We can't talk about the current state of logistics and not talk about blockchain technology. We've been hearing a lot about blockchain. And the question on the minds of many supply chain professionals is, "is this another fad, or is this something worth paying attention to?"
Results from the 2018 22nd Annual Third-Party Logistics (3PL) Study show that while many in the industry believe blockchain has potential application and benefits, very few companies have moved toward utilizing the technology. The study shows that 30% of 3PL companies and 16% of shippers see blockchain as a potential application. But, of those 3PLs and shippers, none have actually engaged in the technology. Improved supply chain visibility ranks at the top of these anticipated benefits. So why aren't companies adopting the technology? According to research, potential challenges in implementing the technology serve as a roadblock.
In a recent session on the benefits of blockchain, Ken Cottrill addressed some of the confusion behind blockchain technology and laid out some of the massive potential it has for supply chain management. Cottrill is the research marketing and development lead at MIT Center for Transportation & Logistics. During his talk at the Logistics & Supply Chain Virtual Summit, Cottrill acknowledged there's nothing magical about blockchains. Rather, "the technology excels in areas that are critical to the performance of supply chains, as it can be married with potentially groundbreaking innovations such as Internet of Things and extended global trade transactions."
While it seems like a buzzword, blockchain technology has the potential to drastically improve supply chain and logistics operations—as long as companies are ready to invest the time to implement the technology. In 2018, we expect its value alongside IoT to become more evident. With that, more companies in search of cost-saving efficiencies will be ready to adopt the technology.