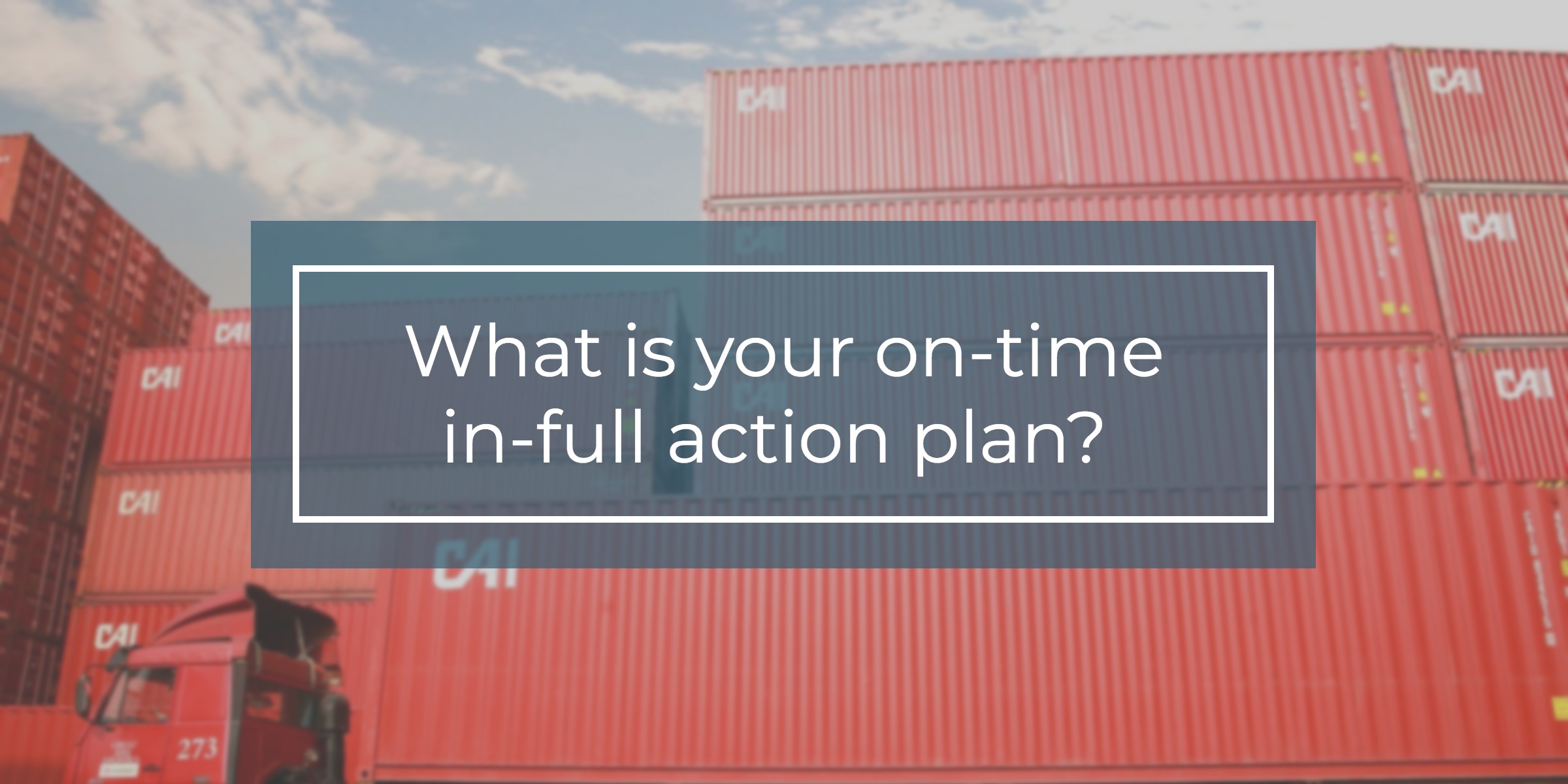 The whole purpose of your supply chain is to deliver the products your customers need, when they need them, in the quantity they ordered. Using On-Time in Full (OTIF) metrics can help you measure how successful your supply chain is at fulfilling this objective.
OTIF measures what percent of the time a supplier delivers orders that meet the customers' requirements for fill rates and specified delivery windows. Just as it is essential for a business to measure sales figures and cash flow, it is equally as important for manufacturing or distribution businesses to manage OTIF.
Yet this metric was often ignored by shippers — that is until retailers implemented a new OTIF policy, prompting several other retailers to follow suit. The retailing giant launched a "no excuses" policy directing truckload and less-than-truckload suppliers to maintain deliveries at 95 percent OTIF. To ensure compliance, retailers charge a penalty percentage of the value of goods that were not delivered according to its policy. This penalty is a huge incentive for shippers to hit their marks.
These policies are not meant to punish suppliers, but represent an attempt by retailers to ensure that they have the products that their customers expect in stock and on the shelves, with minimum inventory investment. After all, in today's marketplace, customers tend to have little patience for items that are out of stock.
Retailers are providing improved software tools to help suppliers with better visibility and control over the process, but suppliers are held accountable for their total OTIF scores and for continually improving their scores. In fact, suppliers are expected to always know their scores and have an OTIF continuous improvement Action Plan in place.
To stay in line with retailers' expectations, suppliers and shippers need to develop solid strategies and maintain positive relationships with customers and distributors. Here are several OTIF strategies to help you make the grade:
Look at the OTIF challenge as a way to improve your overall operations
Gaining high OTIF scores will not only help you manage relationships with retailers, but it can also help streamline the entire operation, benefiting the company's overall supply chain and ensure complete and on-time delivery to all customers, not just retail giants.
Create an interdisciplinary team to design tighter systems
One crucial way to make improvements to OTIF metrics is to bring together leaders from multiple departments, including finance, sales, product planning, marketing, and logistics to solve problems. Make sure each specialist is aware of consequences and knows that absolute ship dates cannot be altered. Each leader can bring their unique expertise to the table to solve the root causes of your OTIF problems and eliminate them.
Common causes of OTIF misses include pick-and-pack mistakes, transportation delays, and communication issues. Together, the team can pinpoint areas that need improvement and develop plans to address them. For example:
If there are issues with the product, talk to the supplier about how the problems can be resolved.
If recurring human error is causing problems, consider implementing employee training programs that directly impact OTIF.
Is stock being mixed or lost? Improve processes within your facilities that will increase warehouse efficiencies.
Audit penalty deductions
Take control of audits for all penalty deductions. After all, anyone can make a mistake— even your customers. If you discover an error, have a documented process to show that the error didn't come from your company so that you can get reimbursed for any erroneous penalties.
Consider shipment appointment scheduling
Scheduling shipments in incremental appointments give you time-specific targets to reach. To stay on schedule, give your partners as much lead time as possible to prevent rejections or delays. Work to schedule contracted carriers and set transit days and times, so that there is as little room for error as possible.
Inform your carriers and shipping locations
Communicate with the immediate links in your supply chain to create ways to stay in sync. Educate your partners on both ends about your stricter guidelines and expectations, so they appreciate the importance of operating on schedule and work with you to meet your timeframes. Look for areas of improvement. For example, if orders bound for Walmart or another retailer with strict OTIF guidelines are currently being routed with other freight, you may need to change consolidation programs or routing.
Notify retailers about order changes
If your orders change, it's important to contact and update buyers to ensure the correct due dates and quantities are reflected in the retailers' scoring systems. This is not a new requirement, but the stakes for not meeting expectations are higher than they've been in the past.
To ensure you're meeting your OTIF targets without the headaches, work with a logistics partner who has a strong track record for OTIF deliveries that will satisfy the tough requirements of big-box retailers. Talk to one of our experts at CAI Logistics to help you overcome these challenges, so you can protect your company's reputation and relationships with distributors.