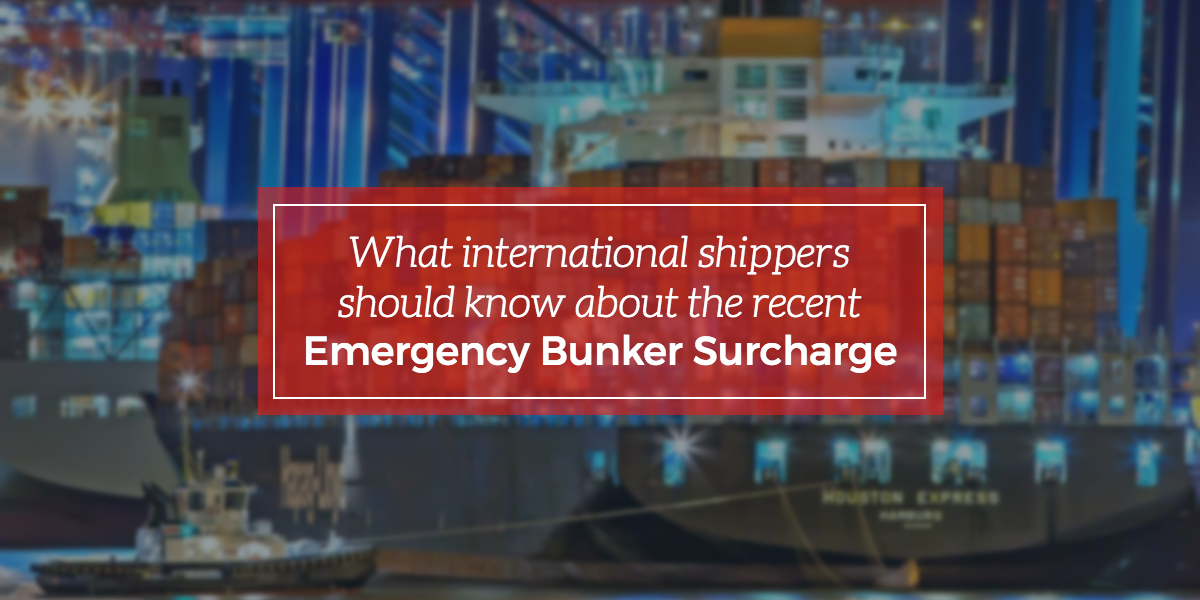 "We are introducing an Emergency Bunker Surcharge (EBS) as a necessary action to continue offering sustainable services to clients," Maersk announced on their website on May 2018. Other shipping lines like Cosco, CMA CGM, and Hapag-Lloyd have followed suit.
The heat of rising crude oil costs is being felt throughout the global supply chain. In ocean freight, bunker prices have spiked over 20% since April 2018. Carriers are struggling to find ways to cover their losses and have turned to emergency bunker surcharges. But are these surcharges a sustainable solution to the problem?
In this article, we'll explain the surcharge, the reason behind its implementation, as well as how these surcharges will affect shippers in the global supply chain.
What is an emergency bunker surcharge (EBS)?
Carriers use bunker adjustment factors (BAF) to adjust contract freight rates to account for fluctuations in oil prices. When fuel costs rise high enough to cut into carrier profits, they can implement an EBS to increase rates above the regular BAF levels.
The Code of Conduct for Liner Carrier Conference introduced bunker adjustment factors in 1974. After the EU banned the Carrier Conference in 2008, much of the industry continued to use BAF and EBS provisions in their shipping contracts.
Rising oil prices
The Brent oil prices started to rise in early 2017 with a large 19 percent increase occurring between April and June of 2018. Prices rose after the Organization of Petroleum Exporting Countries (OPEC) tried to raise lower-than-normal oil prices by reducing their oil manufacturing in late 2016.
Unforeseen disruptions like Venezuela's failed economy and a major Canadian power outage have hurt oil-supply levels. In addition to that, political disagreements over the Iran nuclear deal led to the U.S. imposing sanctions against Iran which further reduced global oil production.
Carriers in the global supply chain were not expecting oil prices to rise so fast in the first and second quarters of 2018—leading to the emergency bunker surcharges in summer.
Uncovering a margin problem
While EBS mandates should ideally benefit all stakeholders (international shipping companies and clients), some parties are crying foul. Companies like Cargill and Electrolux say the EBS hurts shippers.
CEO Allan Melgaard of Swedish Company Scan Global Logistics argues an EBS should help address the high cost of fuel. However, sudden surcharges indicate a bigger problem in the industry—tight margins.
After years of rate erosion and fierce competition, it appears carriers no longer believe in their ability to raise actual freight rates. To cover this problem, they're looking towards surcharges for compensation.
Melgaard told ShippingWatch, "We operate our business on such slight margins that we wouldn't be able to withstand it if we had to pay the bunker surcharge ourselves."
Impacting shipping relationships
International shipping companies can try to implement EBS on top of an already valid contract, but shippers might reject the additional costs and force them to handle the expense.
International shippers understand the importance of EBS but suggest changing the pricing model to involve everyone. By including all stakeholders in the contract, every entity will own the additional cost and can contribute towards a more comprehensive solution.
The unexpected surcharges caused many international shipping companies to lose their clients' trust. Some will even have their contracts terminated because of unprecedented changes introduced before contracts closure.
Intensified shipping delays
When emergency surcharges arise, shippers, carriers, and international shipping companies have to spend time renegotiating contracts. This can delay international shipments—a common problem in the industry. In the first quarter of 2018, SeaIntel reported that only two out of three ships hit the dock on time.
Increasing liner cargo volumes is another reason for the delays. The container industry is shifting towards 20,000 TEU mega-containerships, but many ports are not designed to handle such high volumes. With the driver shortage, it's become more difficult to find enough labor to offload all that cargo.
One solution is for shipping lines to focus on charging accurate fuel rates and optimizing cargo levels before moving on to more advanced strategies, like digitization. Letting more experienced companies (like international shipping companies) handle these advanced systems will give shipping lines more time to perform their core activities with excellence.
Moving forward
The EBS has revealed the intricate connection between fuel costs, shipping liners, and shippers. There is a need for greater transparency across the industry and for contracts to benefit all involved parties.
Avoid unexpected price hikes by working with companies who stay on top of industry trends and can anticipate changes in the global supply chain landscape. CAI Logistics is a modern international shipping company that combines expertise with proper planning to foretell changes in operational prices.
Contact us today to learn how we can use our excellent logistics services to save your organization from the risks of abrupt surcharges.