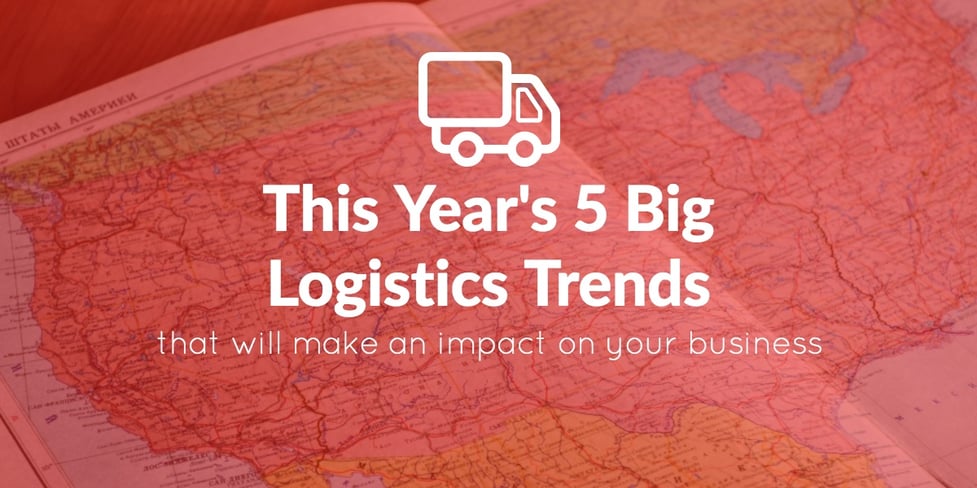 Heading into 2017, business owners had a lot of questions. Today, they still await the new administration's actions on regulations and initiatives like the ACA, H-1B Visa program and a trillion-dollar investment in infrastructure. While much remains in question, we can always count on industry trends to impact and inform the decisions we make for our businesses in the year ahead.
From production and transportation to warehousing and supply chain management, there are many components that make up the world of logistics. And changes to any of these component parts can affect what's happening in the logistics marketplace. Technology, for example, heavily influences the industry, and revenue could be negatively impacted if companies are caught off guard or are slow to adjust.
In this article, we'll take a look at some of the industry trends to look out for in 2017. From changing technology to evolving standards and regulations, getting a jump on what may be coming your way can help you make the right decisions for your business.

Tightening Capacity Presents Opportunities for Intermodal
Motor carrier regulations, like the Electronic Logging Devices (ELD) mandate taking effect this year, will impact over-the-road trucking and tighten capacity. The Intermodal Association of North America (IANA) sees this as an opportunity to accelerate domestic container growth and encourages intermodal drayage to take advantage—but with a note of caution. "This really might be a double-edged sword, because the same regulations that impact the trucking community could spill over into intermodal drayage operations," said IANA President and CEO Joni Casey.
Freight Spending for Rail Upgrades
According to the Association of American Railroads (AAR), the privately-owned U.S. freight industry projects an estimated $22 billion in spending for freight rail maintenance and upgrades in 2017—that's around $60 million a day, every day of the year. The projected spending aims to cover upgrades to tracks and locomotives as well as technology investments to improve and ensure safety.
"This year's private network spending, a combination of capital expenditures and maintenance, is part of a continued trend of remarkable proportions, including more than $630 billion since the industry was partially deregulated," said AAR President and CEO Edward R. Hamberger.
Expect the private freight rail network to continue working to prove their worth to the new administration in Washington, taking every opportunity to demonstrate their value to the U.S. manufacturing sector and public infrastructure.
Companies Embrace 3D Printing Technology
As 3D printing technology becomes more popular throughout various industries, it has the potential to have a negative impact on logistics and shipping. If companies begin printing their own parts and components rather than sourcing and shipping them from around the country, logistics companies could lose business. However, some companies will have opportunities to offset negative effects by harnessing the potential of 3D printing for themselves. For example, Maersk utilizes 3D printing technology to print spare parts for its shipping vehicles and rigs, and also prints custom cargo containers for drone delivery. How companies adapt to this disruptive technology will be telling of their future growth.
Internet of Things Will Optimize Logistics
The Internet of Things (IoT) is the concept of connecting devices such as heart monitors, cars, and appliances to the internet or to each other to collect and exchange data. Because of the many and varied applications of IoT, it has become a hot topic. From smart homes to smart trucks and smart warehouses, expect to see a lot from IoT in the coming years.
In logistics, companies can utilize IoT to increase efficiency, reduce waste, and offer better pricing options. By having devices communicate with one another, companies will be able to improve the way they manage inventory, track their assets, fill orders, predict issues and delays along the road or rail, and more.
Shippers Turn to 3PL Solutions
Today, logistics providers can offer better and more affordable solutions to their customers as the market evolves and technology advances. This year, watch as more and more companies look to offload transactional processes to third-party logistics providers to help reduce the costs associated with maintenance, technology investments, supply chain management, and other shipping needs. Additionally, shippers may turn to the outsourced 3PLs to manage complicated compliance issues for trade and transport.
These are some trends you can expect see this year in logistics. And, while many people can observe trends, the most important part is understanding how these trends affect the market and your business. Stay up-to-date on logistics industry trends.