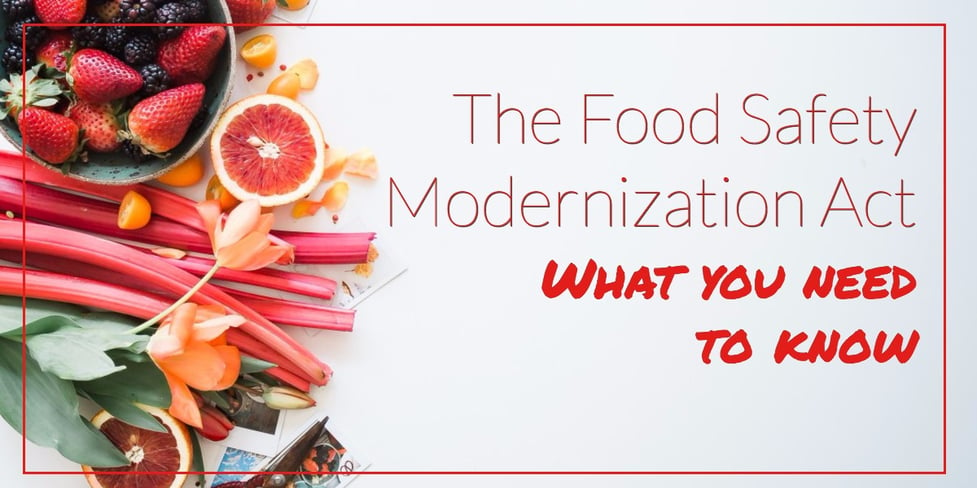 Each year, according to the CDC, 48 million people in the US (about 1 in 6) get sick and 128,000 are hospitalized due to foodborne illnesses. On top of that, foodborne illnesses cause as many as 3,000 deaths per year.
The Food and Drug Administration (FDA) is making strides in mitigating and controlling this problem that affects many Americans each day. The Food Safety Modernization Act (FSMA) gives the FDA a legislative mandate requiring comprehensive, science-based preventive controls across the food supply, expressly aimed at reducing foodborne illness.
In the past, the FDA has reacted to problems once they have occurred. The FSMA will help the FDA become more strategic and proactive about food safety. The rule will also help hold imported foods to the same standards as domestic foods and will give the FDA the proper tools to enforce those standards.
According to the FDA, the FSMA, "enables the FDA to focus more on preventing food safety problems rather than relying primarily on reacting to problems after they occur. The law also provides the FDA with new enforcement authorities designed to achieve higher rates of compliance with prevention- and risk-based food safety standards and to better respond to and contain problems when they do occur."
Many shippers and carriers are already following the Hazard Analysis Critical Control Point (HACCP) system. HACCP is a management system implemented by the FDA to address food safety issues with a preventative approach. The system helps analyze and control biological, chemical, and physical risks in the food supply by incorporating reviews of various processes. These include production, procurement, handling, manufacturing, and consumption of the finished product. Those already following such systems will find the FSMA to be an added layer of protection for human and animal food transportation.
Important FSMA regulations to know
If your business manufactures, processes, packs, holds, or moves food for consumption by humans or animals, pay attention. You need to ensure compliance in your facilities and transportation equipment. These regulations hold shippers, carriers, and receivers accountable for compliance with the act.
These main regulations include:
Training
Carriers must provide transportation personnel with basic sanitary transportation practice training.
Sanitation and cleanliness
All vehicles transporting food products must maintain sanitary conditions. Loading and unloading stations must have handwashing facilities for workers. All vehicles and facilities are subject to inspection.
Temperature control and tracking
Equip all refrigerated trucks and containers with a temperature monitoring device. Pre-cool equipment before loading and traveling. The shipper must define temperature conditions throughout the transportation process. It's up to the carrier to maintain temperatures defined by the shipper.
Temperature logs
Carriers must keep a log of all temperature conditions throughout the trip. Shippers and receivers may request copies of the log from the carrier.
Data records
Keep all records (temperature logs, etc.) for at leaast 12 months.
Keys to managing FSMA compliance
Nothing can throw a wrench in your day like a truck arriving to take your delivery only to discover it's not food grade quality. Someone may have promised you a food grade truck but what sits in front of you now is anything but. Now it's up to you to find another solution to get your products where they need to be on time.
Working with a logistics partner can help take a load off your shoulders. When you work with a trusted 3PL, you know they're doing their part to uphold the standards and regulations expected of them by the law. Spend time focusing on your job, not putting out fires. Instead of scrambling to find new carriers when one shows up without the right equipment, work with a partner who gets it right the first time.
At CAI Logistics, we serve as an extra layer of security to hold all transport parties accountable to quality transportation conditions and compliance with standards. Before making any plans or dispatches, we vet every container and carrier to ensure it meets FSMA regulation standards and obtain temperature logs from all trips using refrigerated equipment.
Regulations affect everyone in the chain. Knowing and complying with U.S. regulations is everyone's responsibility. If you want to keep your business relevant and your operations running, you need to prepare now for the changes to come. And you need a logistics partner who you can rely on to get the job done—and done right.