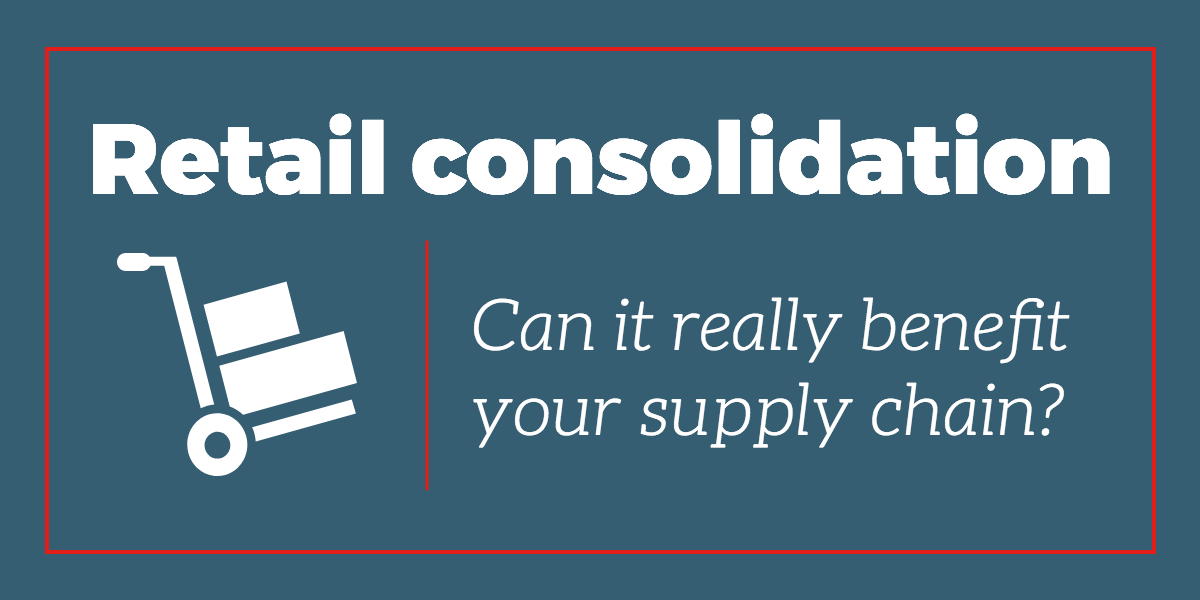 Consumers' expectations have changed. They want what they want, when they want it, and they definitely don't want to pay to ship it. For retailers in today's ecommerce sphere, timing is everything. Whether you're running your own online store or selling your products at a big-box store, you need to keep inventory stocked and be equipped to ship in short delivery windows. You can't afford to ignore consumer demands when you have companies like Amazon offering same-day delivery services with free shipping to boot. This kind of service comes with a price, but who will pay up? How can you streamline your shipping strategy, create a predictable process, meet compliance requirements, satisfy customers, and keep costs down?
One potential solution lies in retail consolidation. Sometimes referred to as freight or origin consolidation, retail consolidation can help solve problems for retailers shipping less-than-truckload (LTL) or less-than-container (LTC) shipments. With this logistics practice, retailers can combine their freight from multiple vendors or at consolidation warehouses to access lower shipping rates and optimize inbound transportation into their supply chain.
What are the benefits of retail consolidation?
Retail consolidation has benefits for all retailers—big and small. Whether you're an ecommerce boutique or Target, you'll find a benefit to the practice. Let's look at the main benefits to consider when choosing a retail consolidation plan.
Pay lower rates
In the days before the ecommerce boom, retailers had more time to fill pallets and build truckloads before shipping the next batch of inventory. Today, businesses and consumers don't have the patience to wait for full truckloads. These stringent shipping demands often lead to smaller, more frequent shipments. But LTL shipments with quick turnarounds can come with price tags that cut into profit margin.
When retailers implement shipping consolidation, they can stop wasting money on LTL shipments and optimize their shipments instead. By combining shipments from vendors shipping products to the same (or nearby) distribution centers into a full truckload, retailers can get truckload rates, or pay for only their part of the truckload. And they won't lose time waiting on a truckload to fill.
Reduce handling and chance of damage
Combining shipments into a single truckload can not only save you time and money, but also help increase your ability to find capacity—even when it's tight—and decrease the handling of your product. Typical LTL shipments traveling the same lane require multiple handoffs across an LTL carrier's network increasing costs and chances for damage. But with retail consolidation, LTL turns into a single truckload with decreased handling.
Ship when you're ready
As a retailer, you likely want to purchase goods from multiple suppliers at different times, but you may not always be able to buy truckloads quantities every time. With retail consolidation, you can buy from multiple suppliers and ship your goods to a regional consolidation warehouse or create multi-stop pickups. This will allow your business to make more frequent, smaller purchase orders and keep up with the turnaround your customers demand. It also helps keep your business compliant with arrive-by dates and streamlines deliveries into your supply chain.
Focus on your business
With frequent shipments from many suppliers arriving throughout the business day, retailers may have to divert labor to unloading and inventorying these shipments. These shipments may not always come when expected, so creating predictability and visibility within the schedule can be difficult. When you consolidate your freight, you decrease the amount of time and labor devoted to receiving shipments. Minimizing the disruptions to the flow of business can help you keep your business running efficiently while staying focused on meeting the needs of your customers.
Reduce your carbon footprint
In addition to the many cost and time benefits, retailers can feel good about the reduction in their carbon footprint. When optimizing your shipment to make a full load, you have fewer trucks on the road releasing carbon emissions. It's one more way your company can practice green supply chain solutions without giving up on the important needs of your business.
Supply chain managers want to optimize every aspect of the chain, and retail consolidation helps you achieve that at the first mile. Your 3PL can help you optimize and streamline your supply chain starting at that first mile—and throughout the entire chain. The more you optimize at the beginning of your chain, the more resources you have to deal with issues at the last mile, another major pain point for retailers. If you're ready to optimize your retail supply chain and save money doing it, talk to us today. Our experienced consolidation experts are ready to help you find the right solutions for your company.