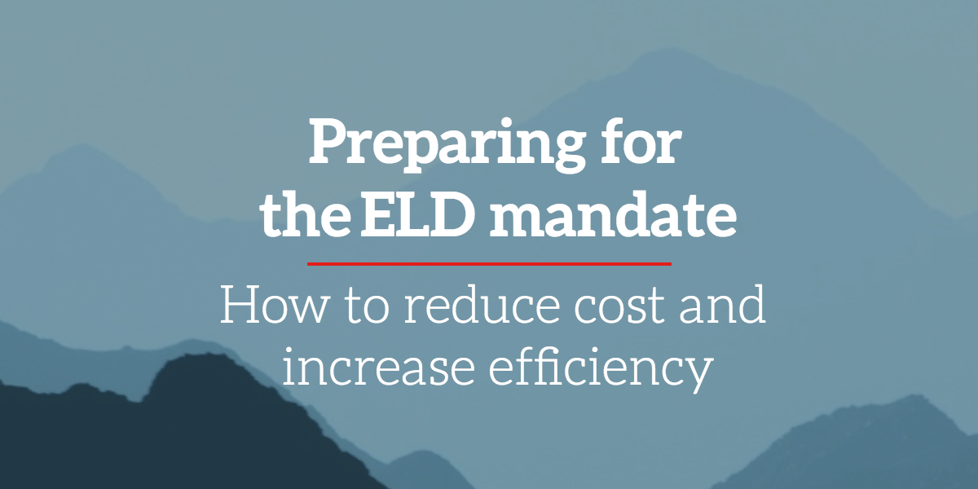 On December 18, 2017, the Federal Motor Carrier Safety Administration (FMCSA) will officially roll out the ELD mandate for trucks in America. To promote safety on the road, this mandate will require certain carriers and drivers to use electronic logging devices (ELD) in their vehicles. As the date draws near, we expect to see rates rise and capacity tighten. If you're a carrier or driver required to track Hours of Service (HOS) and maintain Records of Duty Status (RODS), you know the time to act is now—but implementing these changes can be expensive.
Ask anyone affected by the ELD mandate, and they'll tell you cost is a main concern. First, these devices come with a price tag. Drivers expect to spend anywhere between $200-800 on the device alone. Then, there's the cost of installing the devices in your fleet and training employees on how to use them. Plus, monthly fees to continue using the device and its data. That adds up. Even if your role doesn't require a purchase of a device, you'll likely be affected by increased rates or tightened capacity.
How can you stay compliant with government regulations when it feels like you can't afford what's on the price tag? Fortunately, there are some ways you can lighten the load, speaking in terms of both time and money, for the impending ELD mandate. That way you can keep up with compliance without taking huge cuts to profits.
Learn from the ELD data
It's easy to see the cost of new government regulations when it requires purchasing new equipment for a fleet. While devices may be anywhere from $200-$800, keep in mind that they can provide some cost-saving benefits too. Think of ELDs as an investment. Data collected from ELDs can be used to identify costly driving behaviors like speeding, idling, and hard braking. Carriers can use this data to track and rate driver performance to reduce operating costs and improve the bottom line.
Increase dispatch efficiency
Not only does an ELD mean reduced paperwork for drivers, but also reduced workload for dispatch personnel. Davis Transfer Company, Inc. adopted ELDs several years ago and have seen enough improvement in efficiency and return on investment to know they will never go back to paper logs. As a result, switching to ELDs has helped dispatchers optimize route miles and reduce time and fuel wasted during trips.
In a webinar with Fleet Owner magazine, Davis Transfer Company president, Todd Davis, emphasizes their decision to switch to electronic logging systems over paper logs. "It gives us the information right on our desktop as far as which load will work for a driver and which load will not work for a driver. It also helps with our on-time service with our customers. It forces dispatch efficiency and accountability."
Plan ahead
The ELD mandate will lead to drivers spending more time on the road, making less equipment available. That means getting smart about how you schedule deliveries, communicate with shippers and receivers, and process trucks. Always double check your shipment dimensions and weights. Create your shipping documents and commercial invoices in advance. Send these documents to your carrier before the scheduled pick-up time to avoid delays and be sure there's always an open door of communication. Be flexible with loading and delivery times. To keep efficiencies up and decrease dock wait time, provide loading windows and increased hours of operation for freight handling. The sooner a truck leaves the dock, the sooner it's back on the road.
"The benefits in revenues, even, outweigh the costs," says Davis. "If you're not already on ELDs, you should be." Davis emphasizes the advantages of ELD systems go beyond regulatory compliance. "Companies could be driven out of the market because the odds will be stacked against them on risk management and accident liability."
Change isn't easy, especially when the costs seem to add up faster than the benefits. But the FMCSA believes this mandate will increase safety for drivers and help improve efficiency for fleets. And companies like Davis Transfer have seen this become reality that improves their bottom line.