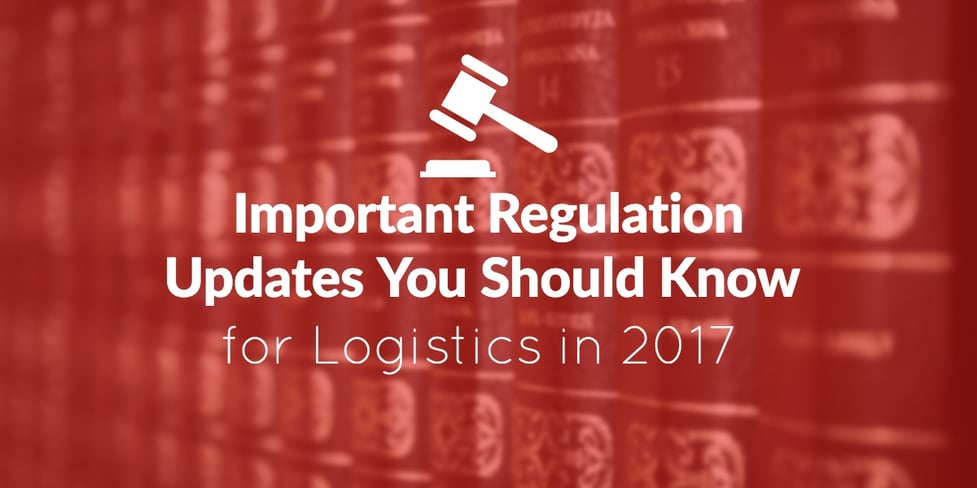 In the first days of his presidency, Trump ordered a regulation freeze. In an executive order, President Trump told federal agencies to remove two existing regulations for each new one proposed. The delays that followed these actions have caused confusion across many industries. This has left a lot in question about rules affecting the logistics industry.
Here is a quick report on some important industry regulations for logistics in 2017 and their status.
Electronic Logging Device (ELD) Mandate
By December 2017, certain carriers and drivers must use an electronic logging device (ELD) under the ELD rule. The rule applies to carriers and drivers required to track Hours of Service (HOS) and maintain records of duty status (RODS).
According to the Federal Motor Carrier Safety Administration (FMCSA), the ELD rule is "intended to help create a safer work environment for drivers, and make it easier and faster to accurately track, manage, and share records of duty status data."
ELDs can sync with a truck's engine to automatically record drive time. The FMCSA believes these devices provide better data than paper logs or logging software. A carrier using automatic onboard recording devices (AOBRDs) will need to replace them with ELDs over a four-year implementation period.
Implementation will roll out according to the following timeline:
Awareness and Transition Phase:

(current) carriers and truckers should use this time to prepare for compliance and may continue using paper logs, logging software, or AOBRDs.
Phased-in Compliance Phase

: (beginning December 18, 2017) carriers and drivers subject to the ELD rule must use certified and registered ELDs or AOBRDs installed before December 17, 2017.
Full Compliance Phase

: (after December 16, 2019) all drivers and carriers subject to the ELD rule must utilize certified, registered ELDs compliant with ELD regulations.
Carriers should prepare now to select the best certified, registered ELD for their business. They will also need to train all administrative staff and drivers in using these devices. The FMCSA provides resources for carriers and drivers to be sure they're compliant when the time comes.
This mandate could mean capacity reductions, if the mandated use of ELDs leads carriers to exit the market. This could drive up rates in the coming years, particularly for the spot market.
HOS (Hours of Service) Restart Rule
This month, FMCSA announced that the suspended 2013 HOS (Hours of Service) Restart Rule will not go back into effect. In the Commercial Motor Vehicle Driver Restart Study conducted alongside Virginia Tech University, FMCSA found that the 2013 version of the restart rule did not provide any more safety than the rule drivers currently use. Based on the study's findings, the 34-hour restart rule will remain in effect without the 2013 regulations. The restart rule will not require two off-duty periods of 1:00 a.m. to 5:00 a.m. (section 395.3(c)), nor the once-per-week limit on use of the restart (section 395.3(d)).
Researchers collected data over a five-month period. To collect the data, researchers used ELDs, caffeine logs, actigraph watches, and back-office data.
During the time the 2013 regulations were in effect, truckers reported loss in productivity. The required 1am-5am rest periods often meant driving in high-traffic hours. Additionally, rates increased and carriers took around half of the revenue loss in that time.
Spot market load booker Wendy Parker argues that drivers need the flexibility to get rest when it's best for them to be safe. Instead of set break times, drivers should have "the personal safety net of being able to manipulate those hours as they see fit for their biological clock."
Many agree with Parker's sentiment. You cannot solve sleep deprivation safety issues with "a one-size-fits all rule, in any industry, as long as human beings are doing the jobs."
The 34-hour restart rule, without the 2013 regulations, should offer that flexibility.
Motor Carrier (MC) Numbers Rule
Under the MC Number rule, the Unified Registration System (URS) would use DOT numbers for identification instead of docket numbers. While in its final stages, the FMCSA decided to put this rule on hold for an indefinite period of time. According to the FMCSA, "additional time is needed to securely migrate data from multiple legacy platforms into a new central database and to conduct further compatibility testing with its state partners." For now, carriers and brokers should continue to use their current MC numbers.
Speed Limiters Proposed Rule
Another proposed rule caught in the middle of regulation turmoil is the speed limiter rule that requires speed limiters on vehicles over 26,000 lbs. The rule has been met with opposition from the industry despite the FMCSA's efforts to promote its safety benefits.
Industry leaders aren't comfortable with a rule that does not mention a specific speed limit. They also believe the fines for violators are too extreme. It is unclear what will happen with this proposed rule moving forward.
Head of Regulatory Affairs at Western States Trucking Association, Joe Rajkovacz, believes Trump's regulatory policies act as the "death knell" for the speed limiter mandate.
Federal Budget Cuts
What will transportation look like in the coming years? It may not be what people expected. In Trump's 2018 budget proposal, the Department of Transportation faces a budget cut of $2.4 billion (13 percent). This came as a surprise to some after the Trump campaign listed transportation infrastructure as a top priority. Other notable factors in the proposal include the elimination of the TIGER (Transportation Investment Generating Economic Recovery) grant program and the proposed provision to privatize air traffic control in the U.S.