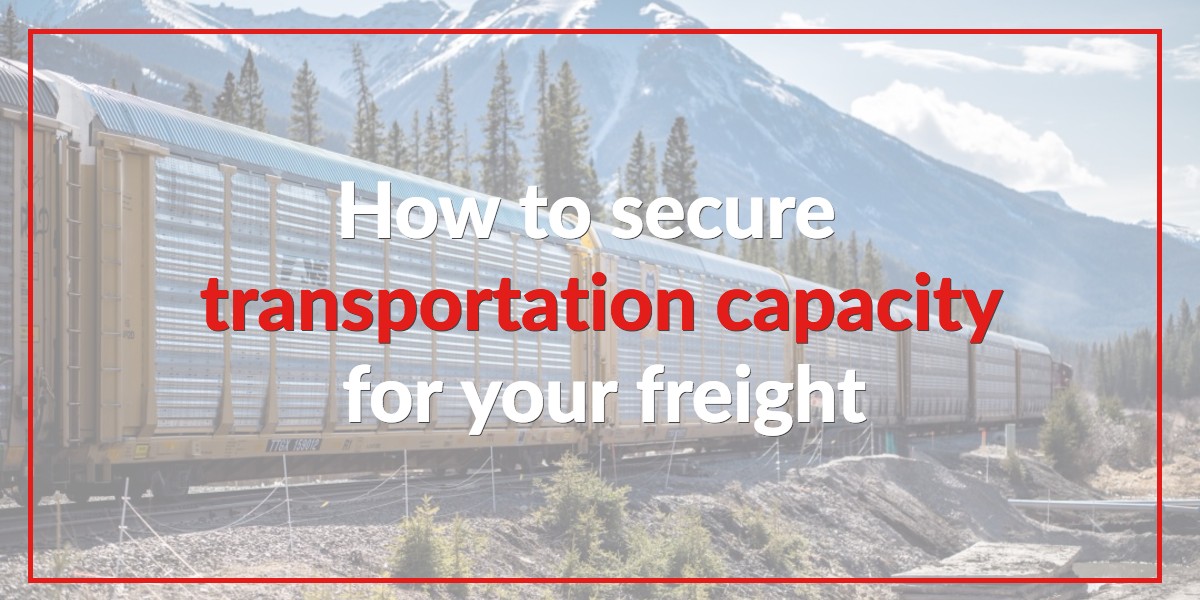 It's a supply chain manager's nightmare. You need to get your goods from point A to point B but capacity is tight and demand is high. Instead of having carriers compete for your business, you've got to compete for a carrier to choose your freight. And that's not something you planned for.
When capacity is tight and demand is high, rates increase and carriers become more selective about the freight they accept. Don't get stuck with your goods or pay over-the-top amounts to get your goods where they need to be. With a little planning and communication, you can work toward securing capacity, so you're not paying the price of high demand. Follow these steps to get the transportation capacity you need, when you need it.

How you can secure transportation capacity and on-time deliveries—even in peak season
Plan ahead
While there are typical high and low seasons, don't rely on this factor alone to determine capacity. Gather information and forecasts from operations, sales, marketing, and finance to understand projected sales, upcoming campaigns and events, and operational goals. This will enable you to align your projected shipping demands with available capacity.
Keep in mind any special equipment you'll need like straps or chains. Be transparent with your carriers up front if your loads have special delivery or pickup requirements. The sooner you can talk with your 3PL about your capacity needs, the better.
Set benchmarks
As you begin to plan for the year ahead, ask yourself some important questions to help set benchmarks. Look at historical data (how do prices compare to last year?), review the budget (where did you land on your budget last year: over, under, on-target? Where do we forecast to land on budget in the upcoming year?), and evaluate the market (how do we compare to the market and our competitors?). While it's good to understand year-to-year rates, benchmarking data is the best way to ensure informed decision making.
Don't rely on the season to determine strategy
You can always count on capacity to tighten in the summer. Come August, expect significant upticks and tightened capacity as shippers begin moving goods for the holiday season. During this time, Pacific ports flood with imports from China and those begin their transport around the country. As we get closer to the holiday season, you'll see more food items in demand. While these are pretty standard seasonal expectations, basing your decisions on seasonality could cost you in the long run. Other factors like weather, driver shortages, economy, and regulations may affect capacity, rates, and demand.
Don't go after low cost alone
You want to be wary of the company who can always offer the lowest price. Sometimes, carriers are doing the right work to offer you the best deal. But it's hard to sustain a business by consistently undercutting your competitors. Carriers offering bargain-basement rates to move your goods are cutting corners somewhere. Communication and visibility are often among the first services to get cut. That's not a reliable business model and your transportation capacity may not be as secure as you think.
Consider alternative options
As peak season approaches, over-the-road capacity tightens. To get the most transportation capacity, consider intermodal as an option. Intermodal transportation utilizes two or more modes of transport (i.e., rail, truck, or ship) on a single bill of lading without having to handle the freight when changing transport vehicles. Intermodal is a cost-effective, environmental friendly, time efficient, and safe way to move your goods. When you choose rail intermodal, you reduce some of the risks associated with over-the-road shipping. Those risks (fuel costs and surcharges, driver shortages, and government regulations) tighten capacity. Intermodal is a great way to maximize your capacity.
Partner with a 3PL
Some supply chain managers think managing relationships with multiple carriers will secure capacity. Instead of securing transportation capacity by juggling all those carriers, they end up with more management inefficiencies. But, when you partner with a 3PL company, you pass the carrier management burden onto them. Equipped with the tools and experience to know the markets, carriers, and conditions, 3PLs help you secure capacity when you need it.
Establish a partnership with a 3PL now to help maximize and ensure capacity. Your 3PL should be monitoring daily load totals against committed capacity to identify any potential problems. At CAI, we analyze shipping requirements for our customers to optimize opportunities and find strategic solutions to improve service and reduce cost. We're not limited to one mode of transport either. By managing many transport providers, including truck and rail, we maximize capacity for our customers.