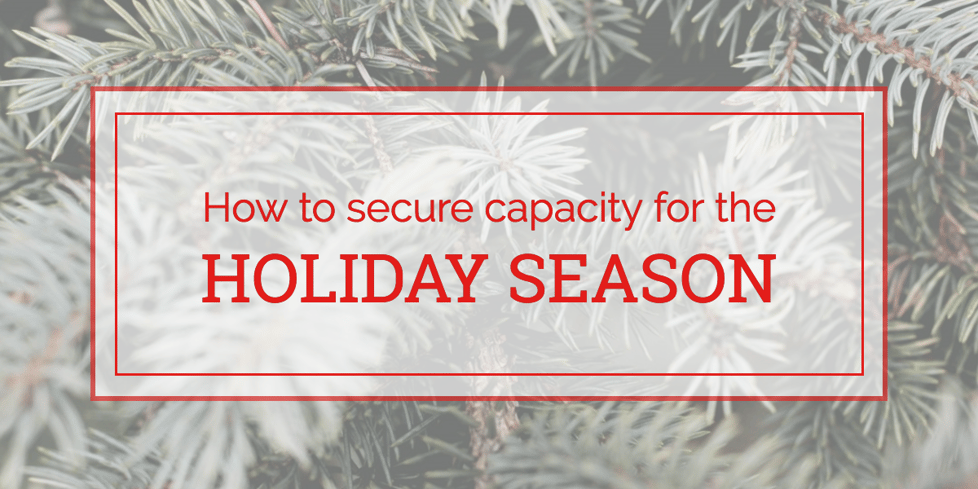 With school back in session and Labor Day officially behind us, it's time to shift our thinking from the dog days of summer to the holiday season ahead. Companies have already begun ramping up production and inventory for the upcoming season starting as early as July. As the clock is ticking, it's probably time for your company to follow suit as you don't want your goods to get left behind.
We've offered some great insights on planning ahead for holiday season shipping, but now is the time to get to work. It's not enough to have a production and inventory plan if you haven't secured capacity to ship that inventory where it needs to go in time for the holidays.
The holiday season affects just about everyone—and long before the season actually begins. From food to electronics to transportation, every company is preparing for an influx in shipping. This leads to capacity beginning to tighten by mid-summer. By August, we see significant upticks in shipping as shippers begin moving goods. By now, the Pacific ports are flooded with Chinese imports ready to begin their journey around North America.
While traditional decreased shipping capacity is likely to affect your supply chain, other factors like weather, driver shortages, economy, and regulations may affect rates and demand as well. To avoid the pitfalls of the holiday shipping season, such as peak surcharges and tightened capacity, follow these tips:
Know the timeline
Take a look at the schedule within the holiday season from a consumer's perspective. Big ticket items like consumer electronics see a significant uptick in sales during Black Friday and Cyber Monday, when shoppers think they can get the best deals. But these days, holiday shoppers aren't waiting around for Black Friday to start checking other items off their Christmas lists. According to the National Retail Federation, about 40% of holiday shopping begins before Halloween. As we move into November, we see an increase in holiday food sales, a trend through December.
Next, think about the timeline for your company and the goods it needs to move. Are you moving electronics? Food items? Equipment and parts for other items? When does the demand increase in relation to the holiday season? When you develop your timeline against the holiday season, you will know what you need to start moving and when to move it. The sooner you identify this, the sooner you can start conversations with carriers to secure your capacity.
Beware of the lowest cost options
When you're trying to secure transportation capacity during the holiday shipping season, you're faced with a lot of surcharges and fees. Because of this, it may be tempting to go with the shipper that can offer the lowest price. But be wary of this. Not every company or carrier is trying to take advantage of you through higher prices. There are reasons carriers have to set higher prices, after all, they have their own costs to manage. In addition to dealing with the supply and demand of transportation during peak season, carriers have other costs to consider. They need to have good insurance coverage (which benefits your goods too), and they need to be compliant with government regulations for the right equipment, inspections, driver hours, etc. If a company undercuts its competitors on a consistent basis, it's probably struggling to sustain its business and is cutting corners somewhere—meaning your business could suffer. Choosing carriers in seasons of tight capacity based on price alone could end up costing you more in the long run.
Partner with a 3PL
The best way to secure capacity during any season, especially peak season, is to partner with a third-party logistics company. If you try to secure more transportation capacity by keeping up with multiple carriers at once, you will probably end up with more inefficiencies than capacity. Pass the burden of carrier management onto a trusted 3PL who has the experience and know-how when it comes to selecting and managing carriers. 3PLs not only know the markets and conditions, but also have long-standing relationships with carriers. That means they can select the right carriers for you and help your shipments look more appealing to the shippers. Working with a 3PL can help you have transportation capacity when you need it, without the hassle.
Prepare for upcoming changes to logistics and the supply chain landscape with our guide, The Future of Logistics.