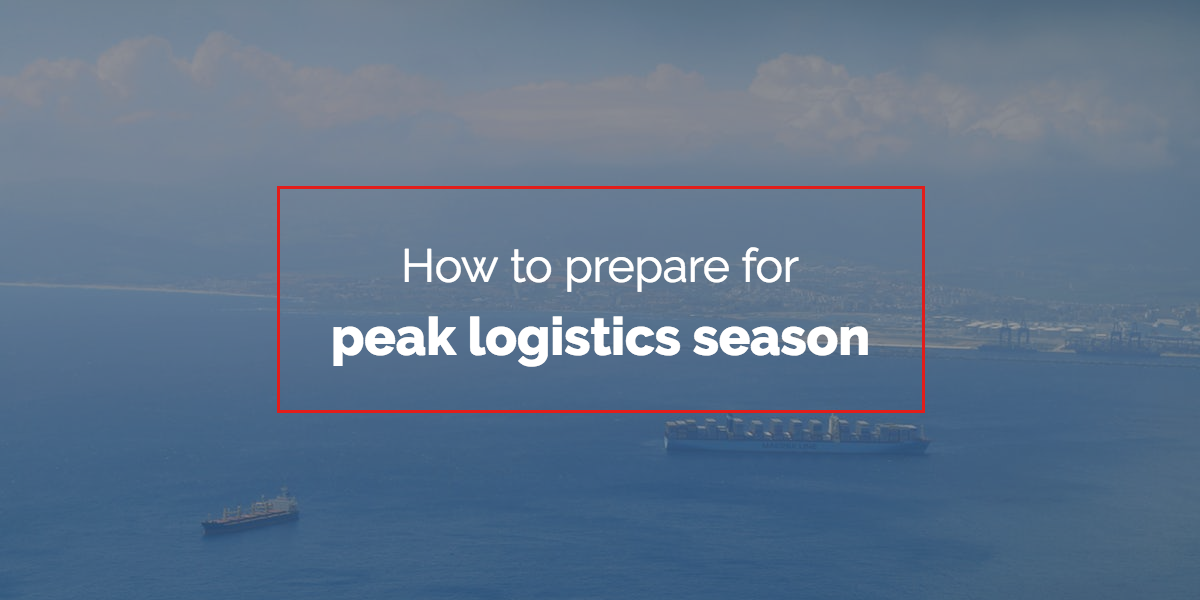 America's e-commerce sales will increase by 10%— over $45 billion— resulting in additional revenue this year. Projections also show holiday shopping will start as early as mid-August. These two factors will make this year's peak logistics season perhaps the longest and most intense season in recent history.
Growing e-commerce demand, lack of capacity, and lofty consumer expectations will all contribute to this year's peak season intensity. Shipping challenges like these become magnified during the peak retail season especially when factors like theft and returns also tend to pick up.
Holiday shopping is both a boon and a burden for everyone involved in the movement of goods. This double-edged sword is most evident in the higher volume of product being shipped from Asia to the U.S. With so many variables to consider, shipping managers will need to be on top of their game.
Despite the challenges presented in the peak logistics season, you can still get ahead of your competition by using the following best business practices.
Secure drivers and capacity
The truck driver shortage will remain a pressing challenge in this year's peak shipping season. The ELD mandate has aggravated an already a growing problem—and the American Trucking Association estimates the U.S. will need 900,000 drivers to keep up with demand. Lack of drivers, and thus capacity, will lead to longer transit times, higher salary demands, and inefficient logistics. Implement a reliable capacity plan to avoid many of these problems.
To recruit and retain quality drivers, be upfront about job expectations, offer competitive compensation rates, and show employee appreciation through acknowledgments and celebrating milestones. If you outsource capacity, use contract rates to avoid the volatility and uncertainty of the peak season spot rate market. Work with a 3PL to take advantage of their shipping networks and bulk buying power.
Avoid expanding costs with a realistic budget
More demand plus limited capacity equals inflated freight rates and sometimes a peak season surcharge to boot. Large cargo volume often leaves operators and truckers scrambling to keep up. This can result in greater shipping costs downstream.
It is crucial to go into the peak retail season with a realistic budget and a plan. To do this, expect shipping rates will rise and account for "what if" scenarios in your budget. Reexamine your shipping costs in relation to previous years. Explore the potential benefits of contract rates instead of the spot rate market and consider utilizing less-in-demand (and thus less expensive) container transit routes. Take time to learn how a good broker can help you execute on all these strategies.
Prevent theft with proper security
Cargo theft increases during the holiday shipping season. With so many temporary workers, it is easier to steal cargo without getting caught. Security is of special concern if you use less-than-truckload (LTL) shipments. Because of the many stages of the LTL process, there's greater freight exposure and more opportunity for damage or theft.
Minimize your risk with comprehensive cargo insurance. Prevent theft by staggering LTC shipments, separating multiple containers into multiple bills of lading, and avoiding indirect shipments which often experience delays. Use intermodal transport for long-distance routes, as rail terminals are often much more secure than trucks.
Leverage technology
Transportation management systems (TMS) technology can help you optimize routes, especially during heavy shipping periods. A TMS keeps track of where a product is and when it should reach key destinations. This level of supply chain visibility helps you communicate well with trade partners which is crucial during high volume seasons.
A TMS will save you money by helping you plan around natural disasters and bad supply routes. This works by simulating various shipping scenarios to learn about staggered shipment options and alternate routes. These shipping simulations can also help reroute cargo in case of drastic changes in customer demand.
Employ consolidation techniques
Take advantage of origin, freight, and retail consolidation to keep delivery rates down and supply schedules on time. Consolidation warehouses can help combine goods from many vendors and transform LTL cargoes into single freight shipments.
Practice reverse logistics for product returns
High sales volume often means higher return rates. In fact, the weeks following the holidays account for 24% of all annual returns. Reduce the cost of returns by implementing a robust reverse logistics strategy.
Decide early on how you'll use return/collection centers. Damaged products should go straight to inspection plants for further analysis. Hold intact returns at distribution centers so they can be quickly resold.
Use strategic partners
A high volume of shipments, especially from Asia to North America, requires a comprehensive logistics strategy. Setting up or shoring up a system to handle heavy seasonal demands is complicated. Instead, work with a third-party logistics provider to help manage your shipments so you can focus on your core business.
CAI Logistics helps you offload the demands and stresses often associated with peak logistics season. With strong communication practices and a trusted carrier network, we're able to provide you with industry-leading supply chain visibility plus quick and creative solutions when you need them the most. Many companies will run into problems like forgetting proper documentation at international ports or not having backup plans for no-show pickups. Let us handle these hiccups so you can have a smooth and profitable season.
The best time to find a logistics partner for the retail season is well in advance. Contact us today to learn how we can help your company excel this peak shipping season.