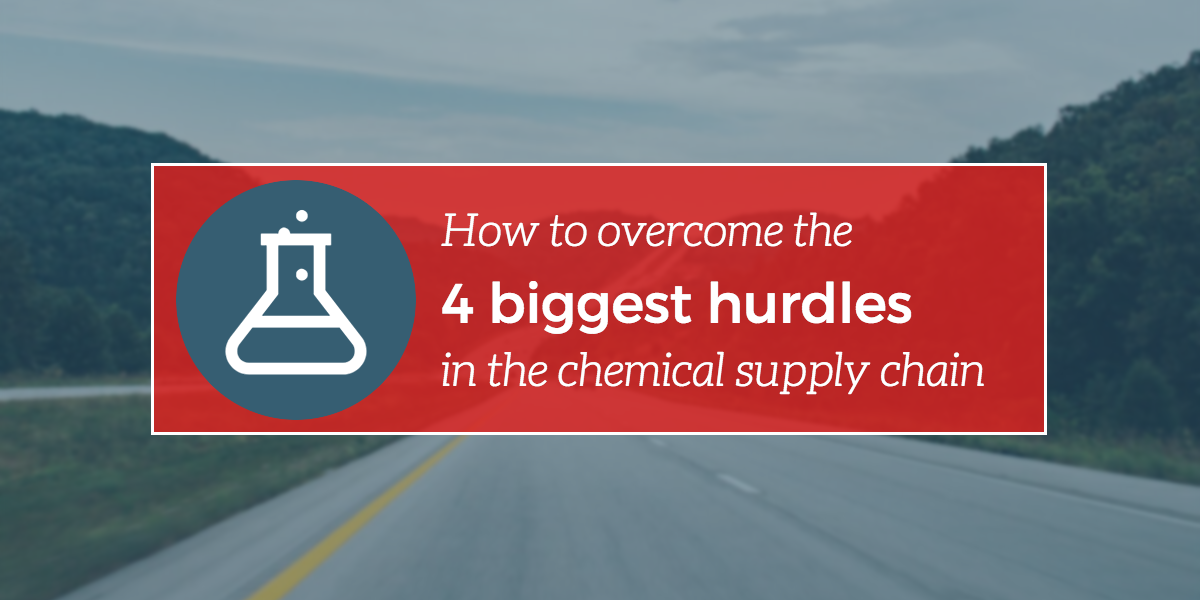 Today's chemical manufacturers are faced with a range of evolving hurdles that will require updated processes and new software to solve. Some say it can't be done. We know it can, and we'll show you how.
Like all industries, chemical suppliers must overcome the ELD mandate and the driver shortage, while at the same time resolving their lack of visibility into their supply chain process and navigating some of the most strict regulations.
But even the world's most dangerous cargo has to reach its destination—so let's analyze the factors that led to the chemical industry's struggle and offer some perspective on how logistics managers can overcome these issues.
Challenge: transparency for the customer
Old habits die hard. Despite the massive market growth and increased product complexity, many chemical suppliers continue to hold onto their traditional infrastructure. One of the most significant flaws of the old-school approach is the lack of insight into the shipping process. Consequentially, many chemical companies provide their clients with relatively weak customer support in the way of shipment tracking and demand forecasting. How did this become such a burning problem?
In the past, chemical companies excelled at two things—effective manufacturing and excellent research and development—and that was enough to keep them on top.
As services in all spheres of life have become personalized and instant, the focus has shifted from production to logistics. As customers received access to more information online, expectations shifted. This shift forced retail companies to move from a salesperson-centric model to a customer-centric model if they wanted to stay in the game.
Today, many companies will expect real-time tracking and shipping data to drive operational decisions. Companies who can provide such shipping data often enjoy considerable growth.
Solution: transportation management systems (TMS)
Keep your customers in the loop by implementing a transportation management system (TMS). If you're already using a TMS, make sure the software is up-to-date and the operators are properly trained.
A TMS will give you real-time visibility of all your shipments. This level of transparency makes it possible to relay accurate data to customers and to notify them in the case of shipping delays. This information will help your customer better forecast what supplies they will receive so they can optimize their manufacturing accordingly.
Chemical companies who implement a TMS will provide their customers with improved forecasting and strategic planning possibilities. This can be used as a major selling point when pitching to prospects.
Challenge: trained drivers are scarce and expensive
The driver shortage has been particularly problematic in the chemical industry supply chain. Finding drivers is difficult in general but delivering large quantities of dangerous chemicals requires special certifications and licenses, further narrowing the pool of available professionals.
Things got more complicated in 2015 when the Federal Motor Carrier Safety Administration (FMCSA) mandated chemical companies' drivers to get tanker licenses when carrying intermediate bulk containers (IBCs). Traditionally, IBCs have been lumped in with other cargo which enabled their transport with LTL partners. With new regulations, many LTL shippers can't accept IBCs because they lack personnel with required certifications.
Solution: buy contract capacity and optimize routes
Avoid the lack of capacity by reserving warehouse capacity ahead of time. While you may risk buying empty capacity, you will save money by avoiding the exorbitant prices found on today's spot rate market. Work with 3PLs, who often buy their capacity at bulk prices and in large quantities, so you can have a steady source of capacity at a fraction of the price you could have gotten on your own.
Use shipment optimization strategies to increase your efficiency and reduce your reliance on drivers. Tactics include origin consolidation, intermodal transport, and qualifying your shipping providers. Even if optimizing your routes only prevented one or two unnecessary deliveries per year, you would easily save your company thousands in delivery costs.
Challenge: poor record keeping
New regulations continue to move the industry towards extensive documentation regarding green shipping practices. The Registration, Evaluation, Authorisation, and Restriction of Chemicals regulation (Reach), and Restriction of Hazardous Substances Directive (RoHS) both mandate companies to identify all supplies from their bill of materials (BOM) and accurately document large quantities of substances of very high concern (SVHC).
As the markets expand, it is more difficult to keep records of all the suppliers and an ever-growing network of sub-suppliers. If a company fails to connect the sourcing and shipping process effectively, it can run into serious legal trouble. It is imperative that companies develop and maintain well-documented records of all their sourcing information.
Solution: electronic documentation
Companies can use Electronic data interchanges (EDI) to consolidate all documentation into one centralized location. Electronic documentation requires much less human interaction than paper documents and can be tracked much easier. You can integrate an EDI with a TMS to create useful reports for legal or for managerial reporting.
Challenge: improper labeling and storage
Chemical reactions, which can occur during transit, have always been a headache for chemical suppliers. When chemicals are mislabeled and stored in the wrong locations any malfunction or break in the container can cause contamination of the other substances in the shared cargo. These breakdowns can ruin the purity of the specific chemical concentration and render the product useless. In the worst-case scenario, mishandled dangerous chemicals can cause deadly accidents and environmental disasters.
That's why it is imperative chemical companies have a strong labeling and storage process. But with an ever-growing list of the ways to properly store chemicals by hazard category and keep them separated, how do chemical companies keep up?
Solution: enterprise labeling software
Chemical manufacturers can no longer afford dispersed labeling systems—they need to use an interconnected and centralized enterprise labeling software. Make sure the labeling software you choose can react to real-time data without disrupting the flow of your operations. Good manufacturing practices will also require a labeling system to integrate with other data programs such as SAP or Oracle.
You can prevent chemical storage problems when proper labeling and proper personal training come together. Make sure to always reference your state's legal requirements for chemical storage procedures. Here are the Texas state chemical storage guidelines to use as a reference.
Accomplish supply chain greatness
Worrying about the reliable capacities and the increasing demands in the industry can prove to be too much, even for top players. As time goes on, good shipping practices will become a sole prerequisite for being in the business. If you want a competitive advantage, an experienced 3PL company holds the key to a powerful supply chain.
At CAI Logistics, we pride ourselves on our ability to find creative solutions to our customers' problems. We often surprise customers by exceeding expectations in communication and service. Our many years in the business and extensive track record has given us the experience needed to deliver for your company's specific needs. Customers know when they work with us we don't overlook important details that could cost you sales or get you in legal trouble.
Reach out to us about your chemical shipping needs today.