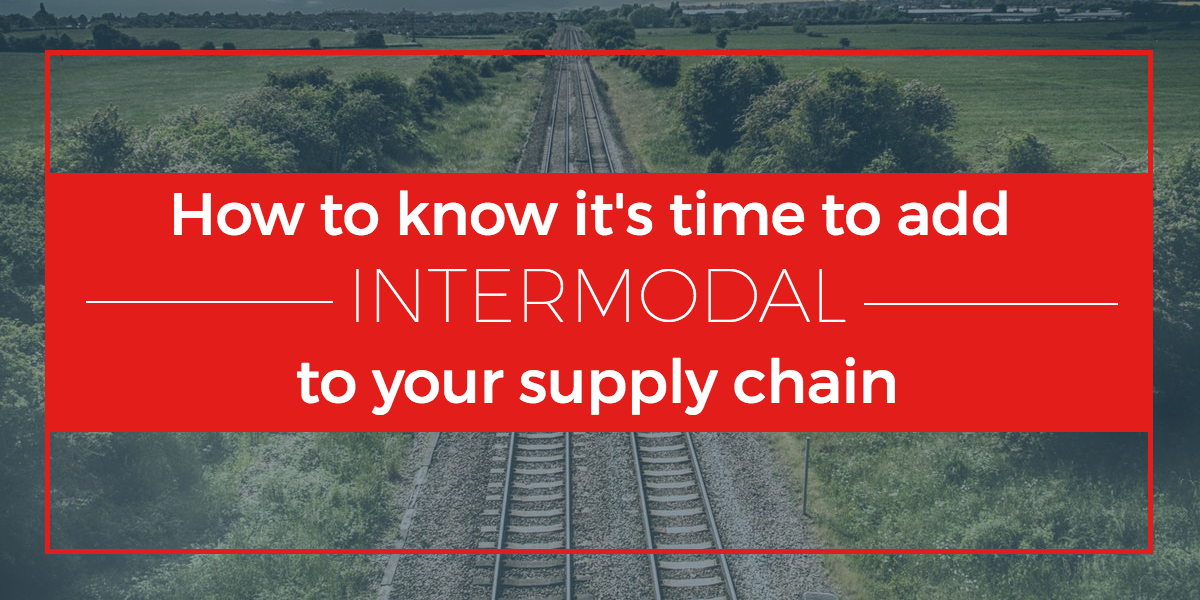 As a shipping manager, you're always pushing to better optimize your supply chain operations. If you ignore inefficiencies, your company will be less competitive and may have to sacrifice precious profit margins. Luckily, intermodal transport is a viable option for solving many of the issues plaguing logistics supply chains.
These industry-wide issues include the driver shortage and ELD mandate. This trucking capacity crunch has many shipping managers scrambling to find capacity or forcing them to pay record high spot rate prices. Intermodal solves these issues by using rail to circumvent many of the limitations of the current truck freight market.
In this article, you'll learn the benefits of intermodal transport and when it makes sense to implement intermodal into your supply chain.
How to know it's time to add intermodal to your supply chain
Cost savings
Because of its fuel and operational efficiency, intermodal can save money in your supply chains. Trains can move an entire ton of freight 470 miles on a single gallon of fuel. Trucks, however, can get roughly 130 ton-miles per gallon.
Rail has the additional benefit of reduced labor costs. A single engineer can operate a train that carries thousands of tons of cargo. However, a truck driver can haul only about 22 tons at a time.
Unlike trucks, intermodal containers are less likely to get stuck moving without cargo. This saves you money by reducing the amount of "empty miles" factored into your pricing.
When should you use intermodal for cost savings?
First, look at how far each of your lanes is traveling. Lanes traveling more than 500 miles are good candidates for intermodal transport. At this distance, you'll start to notice the cost savings. Starting with longer routes is an easy way to start seeing savings quickly. However, since intermodal runs only in specific lanes with few stops, you may need to work with a 3PL to help secure the best route and transportation option.
Shipping by intermodal also requires additional blocking and bracing, but by working with an experienced logistics partner, you can find the help you need to handle these additional steps to add capacity at a minimal cost, ultimately protecting your cargo.
Capacity
The driver shortage and ELD mandate have deprived many shipping managers access to sufficient truck freight capacity. Intermodal solves this by offering rail as an additional capacity source. With annual investments by the rail industry in capacity, expedited service lanes, and capital improvements, intermodal transportation is now faster and more convenient.
When should you use intermodal for capacity?
Even though rail does provide alternative capacity, it's not perfect for every situation. Intermodal historically is one to two days slower than shipping solely by highway. Also, rail transit and inventory carrying costs are factors to consider when making the decision between intermodal and truck.
Blending intermodal and truck transportation into your current logistics network can be an optimal solution for your capacity needs. Intermodal can provide savings and add capacity to consistent and predictable cargo lanes, while trucking can be used in lanes where intermodal is not available or transit times cannot be lengthened.
Reliability and Transparency
Over the last 10 years, intermodal has increased its reliability by offering consistent schedules and limited stops between points. With new GPS technology, it's very easy to track a train's exact location. This offers visibility into the shipping process by providing updates on cargo locations, and ETAs. In addition, the exceptional tracking and safety of cargo offered by intermodal transport can give you peace of mind knowing where your cargo is at all times.
Are you ready to implement intermodal?
Intermodal is continuing to grow, providing flexible, reliable, and safe capacity solutions for any supply chain. To avoid the potential pitfalls mentioned in this article, consider working with a 3PL. They can help implement intermodal smoothly and quickly into your supply chain operations. Speak with a CAI logistics professional for insight on how intermodal can help increase efficiency and help solve issues with trouble lanes.