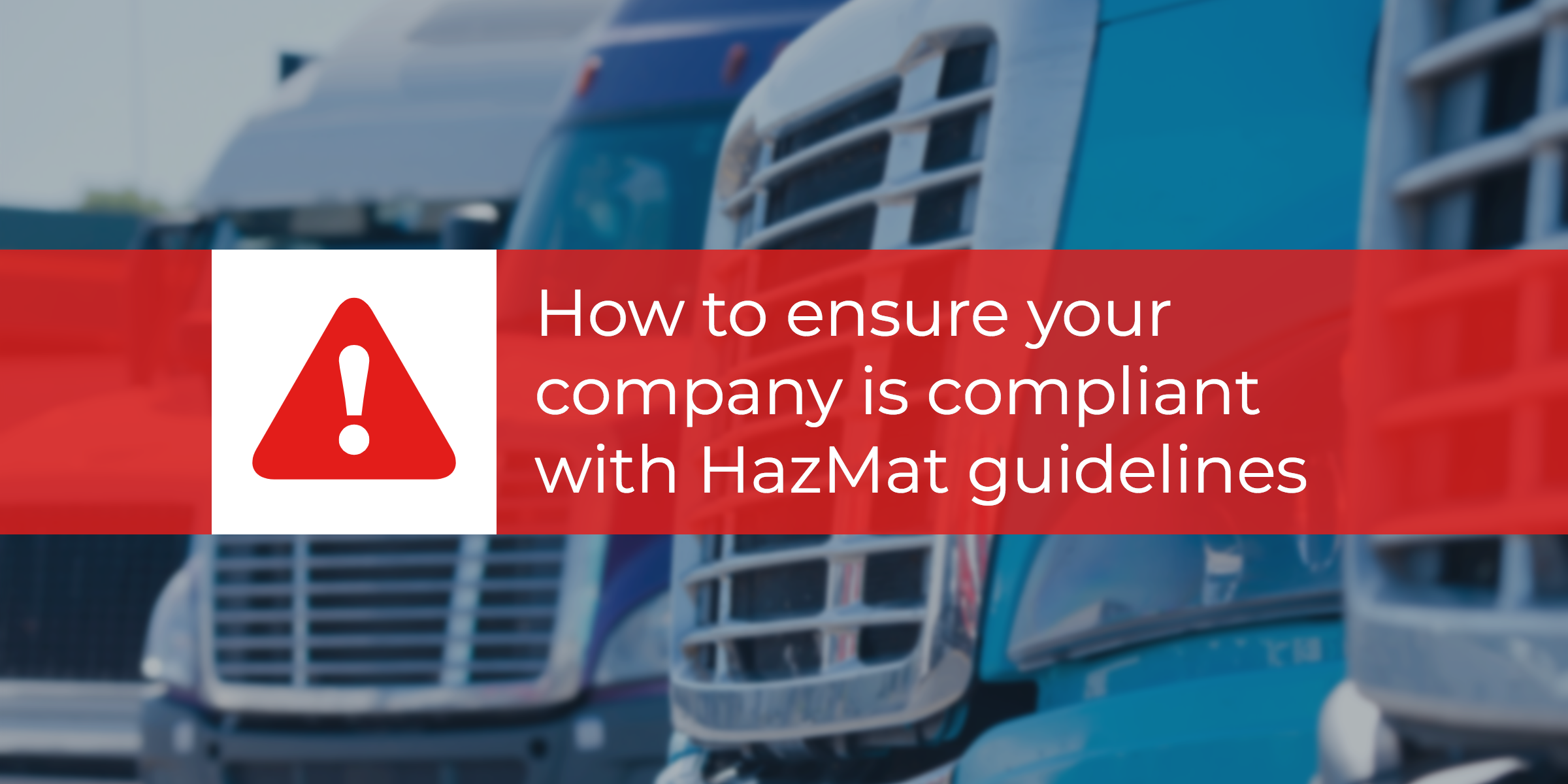 Hauling hazardous materials (hazmat) offers transportation companies opportunities to boost their business revenue. In the current market, there are over 500,000 daily shipments of hazardous materials in the U.S. However, as lucrative as it may be, shipping hazmat is a complex process with specific rules and regulations.
A lack of familiarity with the rules can result in unsafe practices, hefty compliance violations and civil penalties, legal problems, bad publicity, and even a total business shut down. Violations can range from serious accidents to missteps, such as inaccurate, incomplete or missing shipping documentation, shipping descriptions or hazmat placards.
Steep fines aren't the only risk. Hazmat incidents can also cause human injury and death. While the total number of injuries from hazmat transportation incidents across the U.S. has been dropping since 1975, according to the Bureau of Labor Statistics, even one incident is one too many — especially when accidents can be prevented by following hazmat transportation rules.
What are hazardous materials?
Hazmat is a special category of regulated material that is flammable, explosive, toxic, or has other properties with the potential to cause damage to property, human health, safety, or the environment. Over 3,000 materials have been identified by the U.S. Department of Transportation as subject to regulation. Thousands of other unnamed materials are also regulated because they contain hazardous properties. Of the multitude of regulated materials, many are common commercial items, such as household paint, batteries, cleaning solutions, swimming pool chemicals, and hand sanitizer.
All totaled, over 15 percent of the freight tonnage shipped in the U.S. is regulated as hazardous. Each day, companies move approximately one million shipments of hazardous materials, which amounts to over 400 billion tons of hazardous materials shipped each year.
Best practices in HazMat transportation
Companies that regularly or occasionally transport hazardous materials need to follow all of the compliance rules. These three best practices are an excellent starting point.
Employ a HazMat authority
Any business that uses, stores, or offers chemicals of any kind, hazardous or otherwise, that doesn't have an Environment Health Safety and Sustainability expert on staff should consider bringing in an experienced consultant to evaluate their processes. The risks, liabilities, and exposure are too great to not have a clear understanding of the products they're handling, and ensure that their transportation processes are designed for utmost safety and compliance. The job includes staying current on ever-changing hazmat regulations, along with maintaining constant vigilance over exactly what is being shipped, how it's being shipped, and what entities are handling the shipments. By employing a hazmat authority, each step can be managed according to optimum safety standards.
Employ carriers with HazMat experience
Shippers should not assume that all carriers will haul hazmat or that the carriers they select will look after their best interests by ensuring shipments are compliant. For insurance and regulatory reasons, many general commodity carriers have moved away from hauling hazmat over the last few years. When choosing a transportation company, shippers should seek out a partner with a hazmat department that offers a high level of service. Vetting criteria should include:
Verifying that the carrier uses stringent compliance programs that meet or exceed state and federal hazmat requirements.
Requesting proof of operating authority, permits, safety rating, and years in business working with hazmat.
Examining carriers' financial stability, insurance coverage, knowledge about hazmat, and the hazmat experience level of their drivers.
Work with carriers who will validate shipments
Owner-operators and other drivers have a responsibility to validate that the hazmat shipment they're transporting is compliant. This includes ensuring that packages and freight are properly marked and labeled, free of damage and leaks, compliant in documentation, and properly secured. Vehicles also have to have hazmat placards properly displayed.
Using carriers that examine the hazmat shipments they accept can catch shipment discrepancies that could otherwise result in unsafe situations or violations at roadside DOT inspections. These carriers will help you minimize all potential risks and liabilities.
At CAI Logistics, our experience in hazmat can help you take advantage of business opportunities in this sector while minimizing the risks. Contact us for a consultation.