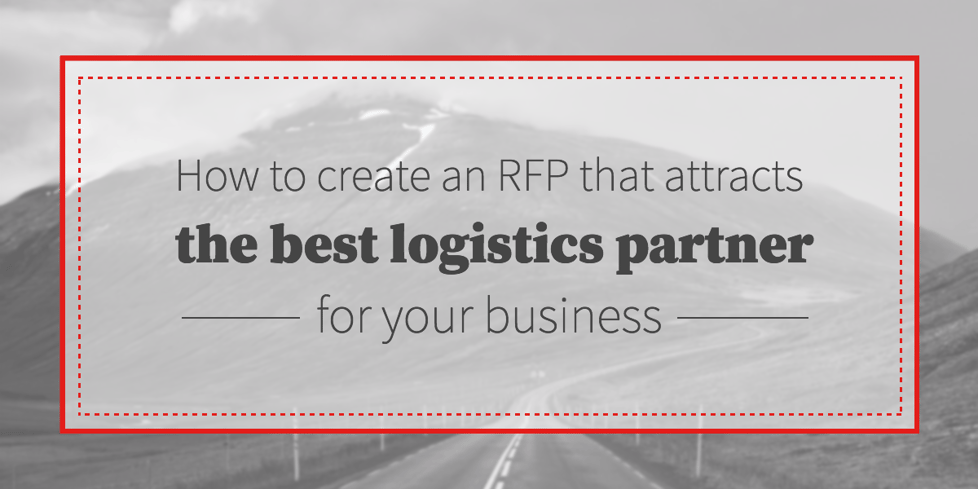 In many articles, we've discussed the importance of working with a third-party logistics partner: the expertise, reliability, and convenience they offer can make a significant impact in your supply chain management efforts and outcomes. We've also stressed the importance of having a good working relationship with your 3PL so you can call upon them whenever a need arises. But if you don't already have an established relationship with a 3PL, how do you get one?
Whether you're managing a fleet or full supply chain, you want to know your goods can be transported from point A to B (and even C) on time and in top condition. Achieving successful end-to-end supply chain management is hard to do on your own and often requires outsourcing to a 3PL. Most third-party logistics companies will submit proposals to work with a company based on that company's RFP (request for proposal). The process typically looks something like this:
Business sends out RFP to 3PLs

3PLs propose project and bid pricing

Business measures and rates bids

Awards go out based on ratings
If you're a business trying to find a new logistics partner, you want to be sure your RFP provides all the necessary information to receive the best bids from logistics companies and provide the right insight to make an informed decision on which 3PL to choose. Before you draw up your next RFP for logistics services, consider these factors.
Identify your needs
Are you looking for a logistics company for a one-off project or an ongoing partnership? Will you need hazmat or climate-controlled shipping containers? Do you need domestic or global services, or both? What about warehouse space? These are some of the basics you'll want to highlight in your RFP to give companies a quick idea of whether their services are fit to meet your needs. In addition to basic service needs, identify what's most important to you as a business. Consider this the big picture stuff. Discuss your pain points, goals, and vision so bidding 3PLs can have a solid understanding of your business and develop a proposal that's better aligned with your business.
Establish expectations
When developing your RFP, you want to be as clear as possible about timelines for both the bidding process and the contract. Informing logistics providers about how you intend to run the bidding process from the beginning will establish expectations and set guidelines for them to follow. Once you've established the timeline, hold the 3PLs—and your own company—accountable to those deadlines and milestones. Give clear timeframes for projects as well, if available.
Standardize where possible
To keep things fair for competitors and to be sure you're getting the most objective view of candidates, you want to standardize as much of the proposal as possible. Pricing is the big factor here. Logistics companies may offer varying types of pricing structures that can make it difficult to make a decision based on price and value. If a standardized pricing format is available, have bidders comply. However, be open to out-of-the-box ideas or approaches that could streamline your processes (and save you money in the long run). Remember: do not look at price alone. Value, above price, should be a deciding factor when choosing a 3PL partner.
Offer visibility and stay transparent
You want to get the most value out of the potential contract you will create with one of these logistics companies. To get that value, you'll need to provide visibility into important aspects of your company like products, services, challenges, and structures. Be upfront about culture alignment expectations or other factors that are important to your organization in contributing to a successful business relationship. The more effort and detail you put into the RFP, the better your candidates can understand and respond to your needs. In turn, you will have the insight to choose the partner who will offer the most value to your business.
Define the rubric
Let your candidates know how you will measure and rank their proposals. You will spend time thinking about the questions you ask and information you provide in your RFP. Logistics companies will be spending time developing their proposals to show their value and present themselves as the best partner for your business. Let candidates know what you're looking for and what's most important to you. Then, 3PLs can plan accordingly and put their best foot forward for a bid.
Determine KPIs
The purpose of an RFP goes beyond evaluating a bidder. A well-developed RFP can be used as a tool to evaluate performance. Inform candidates about the key performance indicators (KPIs) you'll be using to measure their performance. With these KPIs, you can assess performance and understand whether the candidates can measure their performance against your KPIs.
Developing an RFP can seem like a daunting process but the more effort you put into it, the better results you will get out of it. Working with a third-party logistics provider will bring visibility into the entire transportation process, end to end. With a 3PL, you avoid the headaches and the unknowns, while streamlining your process.
Want to learn more about how your company can benefit from a third-party logistics partner? Contact us for a consultation today.