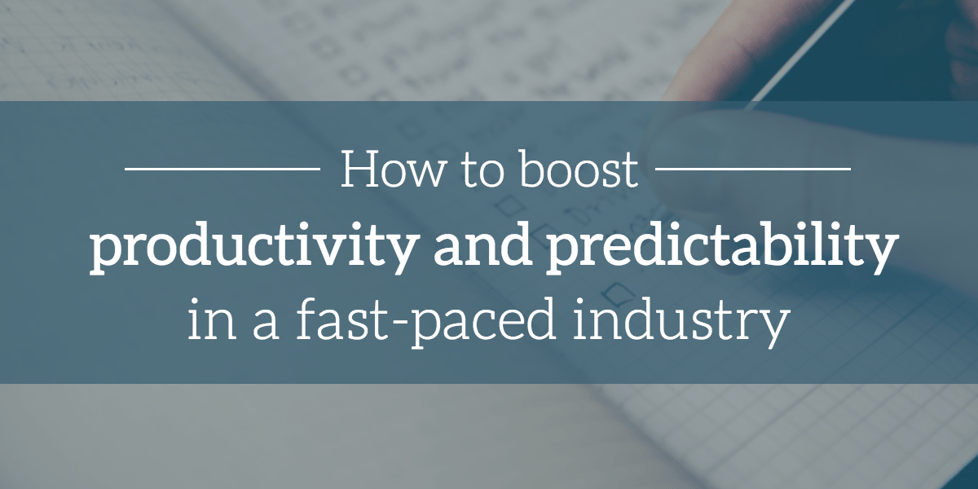 "No two days are the same."
This is something we hear often from our logistics customers—it's what makes their jobs difficult, but it's also what they love about their jobs. Ask anyone who manages a fleet, a distribution center, or a supply chain, and they'll agree that this industry is fast-paced. You need to have the right products in the right place at the right time (for the right price).
When managing logistics operations, there are many variables at play. Sometimes things don't go as planned: trucks break down, drivers show up with the wrong equipment, construction clogs roads, and natural disasters can affect capacity. Then there's vendors and your own staff to manage.
When even one of these variables occurs, you may find yourself racing to put out fires, spending your entire day on an issue you hadn't planned. When so much is beyond your control, how do you keep productivity up and inefficiencies down?
Here are a few tips and tools to help you boost productivity for yourself and your team, so you can optimize your work and react quickly when things don't go as planned.
Set your schedule
We've all had one of those days. We have big expectations for all the work we'll accomplish and tasks to check off our to-do lists when suddenly it's 4 o'clock and you haven't gotten to your list. Instead, you've spent all day answering emails and so-called urgent requests. Try blocking time off in your daily schedule. Have a block or two for responding to emails and another block for uninterrupted work time. That means putting your phone in 'do not disturb' mode so every ding and notification won't keep you from accomplishing the task at hand. If you aren't in an email block, leave your inbox alone until the time rolls around again.
Eat the frog first
Mark Twain advised us all to "eat the frog first," to put the worst is behind you. Tackling the worst (or most important, most tedious, or most-likely-to-be-procrastinated) task at the start of your workday can help set the tone for the rest of your day. Not only have you crossed a major task off your list, you're also proving to yourself that you can get things done. Tackling the hard stuff first will likely motivate you to continue with the less complicated tasks, even checking off your entire list.
Measure KPIs
As William Bauer, Managing Director at Royce Leather says, "You can't improve something you haven't measured." Measuring key performance indicators (KPIs) is a must for productivity and predictability in logistics. When developing KPIs, you want to establish your baseline and your goal. Then, identify what metrics you need to measure and track success and recognize inefficiencies in the chain. Use these KPIs to compare your current productivity levels to historical data and data from other companies in your industry. Measuring KPIs can help you pinpoint problem areas in your supply chain, within your fleet, or in your warehouse. When you recognize these pain points you can create strategies to improve efficiency, performance, and operational effectiveness. You can even reduce cost and increase labor productivity.
You can also get your staff involved. Your employees are doing day-to-day work and chances are they pick up on inefficiencies and areas in need of improvement. Find opportunities to hear from the people "in the trenches" who can offer a different perspective.
Embrace technology and automation
Technology, specifically automation, can keep you moving toward your goals without having to rely on manual processes prone to error. In logistics, utilize the Internet of Things (IoT) to automate manufacturing and increase warehouse inventory visibility. You'll see an increase in efficiency, reduction in waste, and better pricing options for customers. By having devices communicate with one another, you can improve the way you manage inventory, track assets, fill orders, and predict and prevent issues and delays in the lane.
Use data for accountability
Lior Krolewicz, founder of Yael Consulting, creates a scorecard for every vendor by reviewing database records for historical delivery time. In his research, Krolewicz found the system reported that certain vendors had a lead time of 30 days when they were delivering on an average of 15 days, while other vendors were consistently behind schedule, causing inventory problems. He presented the data to the vendors and was able to get commitments on shorter lead times and improve performance. This resulted in lower inventory holding costs, faster turnovers, and lower out-of-stock levels. Using data to hold your team and other players accountable can lead to increased efficiency and visibility.
Preventative maintenance and check-ins
Nothing will delay a delivery like a broken down vehicle. Doing routine and preventative maintenance on your vehicles, tools, and programs, will help you identify potential problems before they escalate into bigger issues or fires to extinguish. Preventative maintenance now can mean saving money and time on repairs later, plus it will decrease the lifetime cost of your asset. But check-ins are not strictly for equipment. Checking in with employees will keep you apprised of what's going on in your workforce and help you address any concerns that may come up.
Have a logistics partner in your corner
More companies are turning to logistics partners to offload their transactional processes to reduce the costs associated with maintenance, technology investments, compliance issues, and supply chain management. Work with a logistics partner who can help you create predictability and boost productivity in your chain. They have the expertise, experience, and network to keep your supply chain operating even when the unexpected happens.
At CAI Logistics, we create smooth logistics experiences for our customers. When the fires need to be extinguished, you've got an experienced and reliable partner in your corner helping you move your products where they need to go.
Learn more about preparing your supply chain for what's ahead in our ebook, The Future of Logistics.