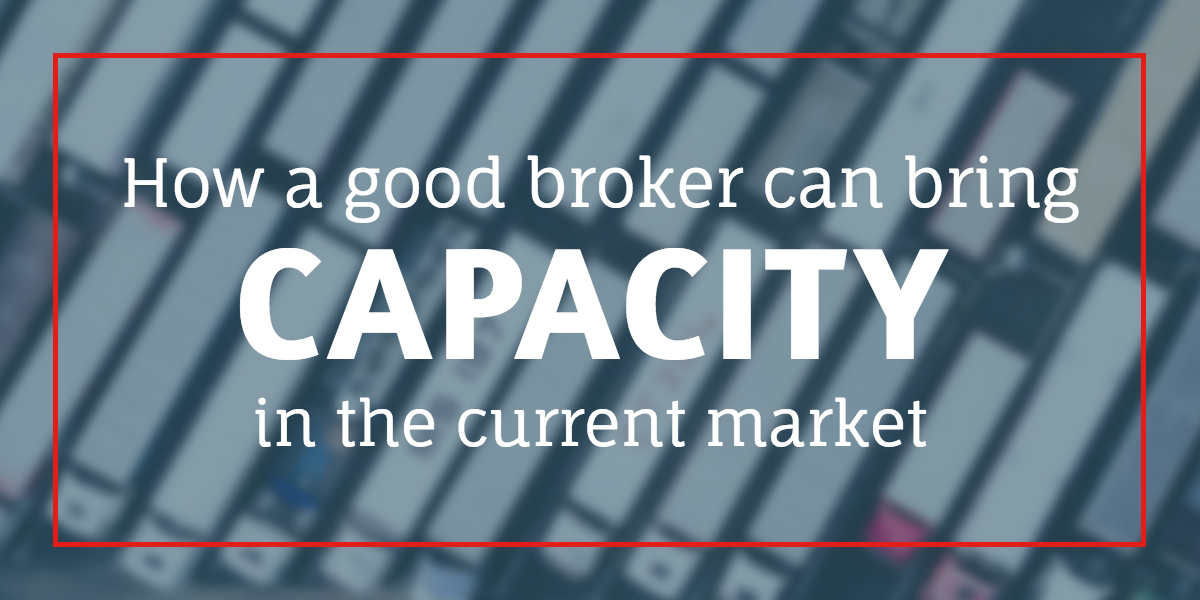 As the economy continues its robust recovery, and consumers turn to ordering more products online, shipping demands have increased. A strong economy signals great opportunity for logistics, but many companies will face a serious roadblock: insufficient capacity.
The driver shortage, restrictive ELD regulations, and fallout from inclement weather conditions, such as the recent hurricanes and harsh winter, have all played a role in the tightened capacity of the current market. A shortage of capacity leads to frustration as shipping costs, and the probability of delay, increase.
As a supply chain manager, you're probably well-acquainted with the capacity crunch in the current market, and your business can't afford to lose time while you wait for capacity to become available. Fortunately, you're not completely out of luck. Brokers have some unique advantages that can aid in your search for capacity. Let's look at the three main ways a broker can bring capacity in the current market.
Expand your shipping network
In the world of shipping, a large network is vital. When capacity is tight, your ability to ship product will only be as good as the length and quality of your carrier list. But building a quality shipping network isn't easy. It takes a lot of time, resources, and knowledge. A well-established broker will already have a strong network of carriers to tap into for more capacity.
An additional benefit to a broker's large shipping network is the ability to use the strengths of multiple carriers to make the shipping process more efficient. Brokers do this by matching carriers with their preferred load types and their preferred specialty. By being more efficient, brokers help carriers move more cargo with the resources they have available to them, such as trucks and drivers.
If you've spent time dealing with carriers, you may have encountered unreliable service. Whether it's showing up with the wrong equipment or choosing a better offer at the last minute, missing deliveries will cost you. This kind of unpredictability will leave even the best shipping managers frustrated and scrambling to find a solution.
While resources such as FMCSA ratings provide some context, it's often still difficult to know for sure if your shipping partner is reliable and adhering to safety standards. Brokers analyze more in-depth factors such as financial stability, contract loyalty, insurance coverage, condition of assets, and operational efficiency. This rigorous vetting process allows experienced brokers to partner with the most reliable carriers, so you can feel confident you'll get the capacity you've planned for.
Use alternative transport options
When capacity is tight on the highway, consider integrating the use of railways into your logistics strategy through intermodal transport. Blending the best of both rail and over-the-road shipping offers a great alternative to highway shipping alone. This type of transport has many moving parts and can be quite complicated. Broker-managed intermodal transport gives you the additional capacity of railways without needing the specialized knowledge and expertise to coordinate this type of operation yourself.
The American government is making significant investments towards railroad infrastructure (including the recent TIGER grant). They believe a well-equipped railway system will take steps to solve America's upcoming capacity crisis. This new railway infrastructure could provide an excellent source of additional capacity to shipping managers who choose alternative transport methods in the future.
Free you from the spot rate market
As demand for spot rate contracts increases, prices will rise and access to capacity will become less reliable. In the past, spot rates have often been more attractive than contract rates; however, trendlines are shifting. In 2018, monthly spot rates have exceeded contract rates in all three modes of transport. Because of factors like ELD regulations and the driver shortage, carriers know they can hold out for higher prices as shippers struggle to find capacity.
Brokers solve spot market issues by implementing long-term service agreements instead. These agreements allow brokers and 3PLs to forecast future revenue with more precision and to negotiate better rates on assets throughout the year. Carriers on long-term contracts can also spend less time renegotiating rates and acquiring clients, and more time optimizing their operational processes.
Experts predict the biggest issue for the future of logistics will be capacity, not price. Locking in capacity with a long-term contract will be a prudent move for companies concerned about securing capacity in this intense market. Even if you do end up paying higher contract rates, you can rest easy knowing you've insured your company against volatile market prices and guaranteed some level of capacity.
What will you do to keep capacity in this tight market?
2018 looks like the year of the capacity crunch for the logistics industry. If you choose to work with a broker, they'll be able to use the strategies above to secure capacity for your company. Trusted brokers can assist in this process by expanding your carrier network, adding railways to your transportation strategy, and taking advantage of long-term service agreements.
Instead of struggling to find capacity in this hot market, work with a 3PL who can give you the confidence to grow your business. Contact us here, and we'll use our many years of successful experience to help ensure your company secures capacity in this competitive and unpredictable market.