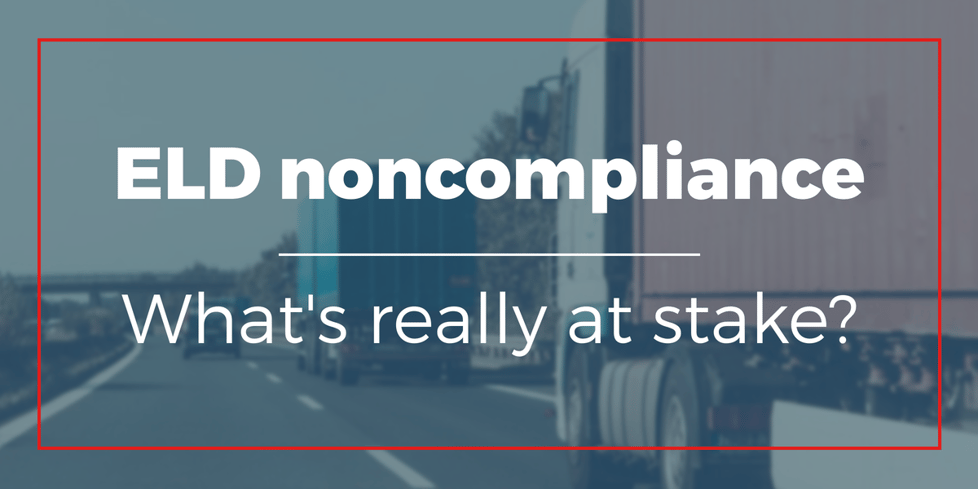 In December 2015, the FMCSA formally introduced their mandate that commercial vehicles be outfitted with electronic logging devices (ELDs), which track several important data points, including drivers' hours of service. The mandate provided an additional two years from the announcement for fleets to prepare, setting the official implementation date for December 18, 2017.
Supporters believe the rule will increase safety in the industry by helping reduce the number of fatigued truck drivers on the road. They also believe that the uniform use of ELDs should give fleet owners the ability to see real-time data, reduce inefficiencies, and increase profits.
But to detractors, it represents a potential hit to productivity. In addition to the cost of the devices (anywhere from $200 to $800 per unit), there's the cost of installation, maintenance, and ongoing access to the data. Also, most experienced drivers are accustomed to using paper logbooks. The time and effort involved in training them to use a new system— and ensuring they continue to use it— is not insignificant.
Regardless of how industry stakeholders may feel about it, the rule did not come as any surprise. It had been expected since the passage of the "Moving Ahead for Progress in the 21st Century" (or MAP-21) bill in 2012. MAP-21, which outlined spending criteria for highway funding, also included a provision that required the FMCSA to develop a mandate for ELD usage.
So even though the ELD mandate had been expected since 2012, and has been on the books since late 2015, there are still people in the industry who are not prepared to comply. While it'd be tough to nail down exact numbers, industry expert John Seidl—who was on the team at the FMCSA that wrote the mandate—estimates that possibly 30 or 40% of drivers nationwide were not prepared to comply as of December 18.
There are many potential reasons for this. For one, time seems to move quickly in an industry with so much change and excitement. It's possible that many owner-operators or smaller fleets may have sped through the past two years only to find themselves unprepared as the date arrived.
Others may have been under the incorrect impression that they're already in compliance with the rule. This is certainly understandable; between the 800 pages of the mandate and the alphabet soup of acronyms used to describe various kinds of devices, there's certainly plenty of cause for confusion.
Still others, frustrated by yet another government regulation, or hopeful that court challenges would delay or cancel the rollout, may have intentionally not installed ELDs in their vehicles. Instead they chose to risk consequences rather than undertake the hassle and cost of implementation and training.
In all these cases, what are the potential consequences an owner/operator, fleet, or driver can face for noncompliance? Let's take a look at a few common misconceptions and the possible consequences that may come with them.
AOBRD? ELD? Which one do I have anyway?
Some trucks or fleets may have already been outfitted with Automatic On-Board Recording Devices, or AOBRDs. These usually function similarly to an ELD, recording driver information such as engine use, road speed, miles driven, date, and time.
However, despite the similarities, not all AOBRDs are necessarily compliant with the ELD rule. For an ELD to be compliant, the manufacturer must certify via the FMCSA website that their product meets the technical standards laid out in the rule.
What if I have recently installed an AOBRD that doesn't meet the ELD technical standards?
If you fall into this camp, good news: you have a little more time before you need to start sweating about noncompliance. December 2017 actually marks the beginning of the second phase in a three-part rollout of the ELD mandate. In the second phase, carriers will be considered compliant if they use either of the following:
ELDs certified and registered after the rule publication in December 2015, OR

AOBRDs installed before December 18, 2017.
If you recently put in an AOBRD that doesn't meet all the ELD technical standards, you have until December 16, 2019 to get a certified, registered ELD installed.
What if my ELD goes out of service and needs repair?
The FMCSA is pretty serious about all vehicles maintaining accurate, real-time records generated by an approved ELD, so they aren't going to give drivers or fleet owners brownie points for just having the device installed if it isn't fully operational. Once your ELD stops working, you have no more than 8 days to get it repaired before you're at risk of incurring penalties.
But the FMCSA's probably not ready to start actually enforcing this immediately, right?
Lest you be tempted to think the FMCSA isn't prepared to enforce this new rule, think again; according to Joe DeLorenzo, the director of the FMCSA's Office of Enforcement and Compliance, fleet leaders and owner-operators should be aware that the government is ready and able to start enforcing the rule right away. They've had the past two years to iron out the particulars of how they'll go about it, so all affected parties should be ready on day one.
What is the likelihood that I'll get caught if I'm not in compliance?
According to Seidl, while it's technically possible to get away with noncompliance for quite a while,
"...it will be harder to do, and it will be easier to get caught. When a truck is stopped for any reason, logbooks are always checked. It will become apparent right away whether a driver is compliant. Owner-operators or fleets with two or three trucks might get away with not having ELDs. Once you get to fleets of six to nine trucks, though, the chances of being stopped will increase."
Just because it's possible doesn't mean it's wise; as you'll see below, noncompliance will become a riskier proposition with every day after the enforcement date.
If I get asked for my logbooks, and it becomes apparent that I don't have a compliant ELD installed, will I be put out of service?
Not immediately. The Commercial Vehicle Safety Alliance and FMCSA announced a six month phase-in period during which drivers will not be put out of service if they don't have an ELD. However, while no out-of-service orders will be given, drivers and/or their employers could still be cited and fined for failure to comply.
What's really at stake for fleet owners or owner-operators of noncompliant vehicles?
In a discussion with fleet leaders at a conference by FleetOwner, industry expert and former FMCSA administrator Annette Sandberg said that noncompliance with the mandate's requirements will be treated like any other noncompliance traffic offenses. She noted that, before they decide on a civil penalty, judges are required by federal statute to consider, among other relevant factors:
fleet or driver responsibility in the violation

history of previous offenses

level of intent in noncompliance
That last point is especially important to note; if your company has intentionally chosen not to comply, that could be a factor in determining the severity of the penalties.
The possible consequences aren't just a slap on the wrist, either; violations can come with stiff financial penalties of $1,000 to $10,000 for each offense. This is not an insignificant sum for small fleets or owner/operators, and for larger fleets, the cost of having numerous noncompliant vehicles can quickly add up.
In addition to the financial sting, being pulled over without a compliant ELD will add points to a driver or a fleet's safety performance scores. This can affect a company's reputation, put them at a disadvantage when bidding on future business, and raise insurance premiums.
What does this all mean?
Taken together, what all this information should indicate to drivers, owner/operators, and fleet owners is this: the ELD mandate is not going away, and the longer you go without complying, the more risk you're exposed to.
The threat of penalties may make some in the industry think the ELD rollout is all stick and no carrot. If you fall into that camp, take a look at this article to see how to lessen the sting of compliance.
While the transition to widespread adoption of ELDs may be bumpy for individual companies and possibly the industry as a whole, take heart: most experts predict that the long-term gains will more than make up for it. If you or your company hasn't yet taken the necessary steps, it might be wise to get on board sooner rather than later.