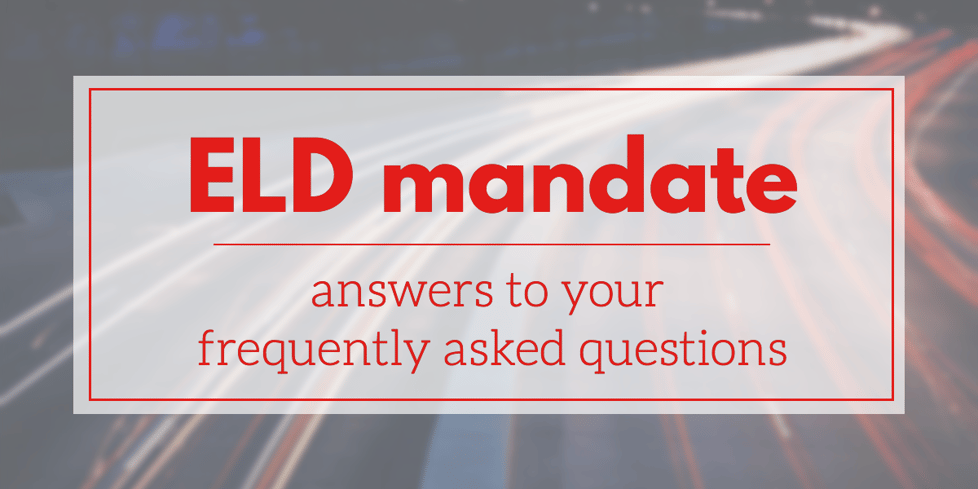 By the end of the year, big changes will roll out for shippers and fleets in America. Beginning December 18 2017, certain carriers and drivers must use an electronic logging device (ELD) under the ELD mandate. This rule applies to any carriers and drivers required to track Hours of Service (HOS) and maintain records of duty status (RODS).
With any government regulation comes questions and concern. What's changing, why, who does it affect? These are some of the many questions supply chain and fleet managers are asking as December creeps closer on the calendar.
To help clear up the confusion, let's examine the ELD mandate and answer some common questions surrounding the rule and its implementation.
ELD Mandate FAQs
What is an ELD?
ELD stands for electronic logging device. ELDs sync with a truck's engine to automatically record drive time. The Federal Motor Carrier Safety Administration (FMCSA) believes these devices provide better data than paper logs or logging software.
An ELD captures information related to location, date, time, vehicle and driver identification, engine power status, vehicle motion status, miles driven, and engine operation hours.
What changes with the ELD mandate?
Beginning in December 2017, commercial drivers required to log HOS and RODS will need to use ELDs. Instead of entering their driving time manually via paper logs or by using software, the ELD will automatically record the time from engine data.
The rule not only requires the use of ELDs but also sets specific performance and design standards for ELDs and sets requirements for documentation that drivers must keep. All ELDs must be certified and registered with the FMCSA (Federal Motor Carrier Safety Administration).
The mandate also prohibits the harassment of drivers by employers based on ELD data or other connected technology like a fleet management system. If any drivers experience harassment, the rule provides recourse.
What are the benefits of using ELDs?
According to the FMCSA, the ELD rule is "intended to help create a safer work environment for drivers, and make it easier and faster to accurately track, manage, and share records of duty status data."
Can drivers or carriers edit ELD log data?
Drivers and authorized third parties can make limited edits to logs to correct mistakes or add missing information. Any edits should include annotations to explain the reason for edits. Drive time cannot be annotated or edited.
Drivers must approve any edits made by carriers before edits become official. Edits must be included alongside original records.
Who needs to comply with the ELD rule?
With the exception of those listed below, most motor carriers and drivers who are currently required to maintain RODS will be responsible for ELD compliance. This includes commercial buses, trucks, and Canada- and Mexico-domiciled drivers.
Who is exempt from the ELD rule?
The FMCSA lists the following drivers as exempt from the ELD rule (but they are still bound by the RODS requirement):
Drivers who use paper RODS for not more than 8 days out of every 30-day period.
Drivers of vehicles manufactured before 2000.
Drivers who are required to keep RODS not more than 8 days within any 30-day period.
Drivers who conduct driveaway-towaway operations, where the vehicle being driven is the commodity being delivered, or the vehicle being transported is a motor home or a recreation vehicle trailer with one or more sets of wheels on the surface of the roadway.
Drivers of vehicles manufactured before the model year 2000. (As reflected on the vehicle registration).
Drivers who use the timecard exception are not required to keep RODS or use ELDs.
How do I know if my ELD is compliant?
It is the motor carrier's responsibility to use compliant ELDs in all required vehicles. To determine whether your ELD meets compliance standards, see the FMCSA's list of registered ELDs. This list also includes revoked ELDs so you know which devices to avoid.
Can I use AOBRDS for ELD compliance?
Automatic onboard recording devices (AOBRDs) do not fit the technical specifications of an ELD as outlined by the FMCSA. Any carrier using AOBRDs will need to replace them with ELDs over a four-year implementation period. (See the implementation timeline below).
Can a single ELD be used in multiple vehicles?
Yes, you may transfer ELDs between vehicles as long as they meet proper FMCSA mounting standards.
When is the ELD mandate deadline?
ELD implementation will roll out according to the following timeline:
Awareness and Transition Phase: (current) carriers and truckers should use this time to prepare for compliance and may continue using paper logs, logging software, or AOBRDs.
Phased-in Compliance Phase: (beginning December 18, 2017) carriers and drivers subject to the ELD rule must use certified and registered ELDs or AOBRDs installed before December 17, 2017.
Full Compliance Phase: (after December 16, 2019) all drivers and carriers subject to the ELD rule must use certified, registered ELDs compliant with ELD regulations.
Can I wait until December to buy ELDs for my fleet?
No, anyone who must follow the ELD rule should begin the implementation process as soon as possible. This is a multi-step process that requires research, understanding, identifying, training, testing, and more. It is not as simple as a one-off purchase. By allowing more time to adopt the devices in your fleet, you can ensure compliance before it's too late.
How will this rule affect transportation capacity?
If the mandated use of ELDs leads carriers to exit the market capacity could tighten. This could drive up rates in the coming years, particularly for the spot market.
Carriers should prepare now to select the best certified, registered ELD for their business. They will also need to train all administrative staff and drivers in using these devices. The FMCSA provides resources for carriers and drivers to be sure they're compliant when the time comes.
At CAI Logistics, we've been hard at work to ensure all carriers and drivers are prepared to meet changing log standards for the ELD rule. And we're prepared to handle increased capacity with blended shipping options like intermodal. We will help maximize your capacity for your unique shipping needs while continuing to comply with government regulations.
For more information on upcoming regulations and other elements changing the logistics landscape, download our ebook, The Future of Logistics.