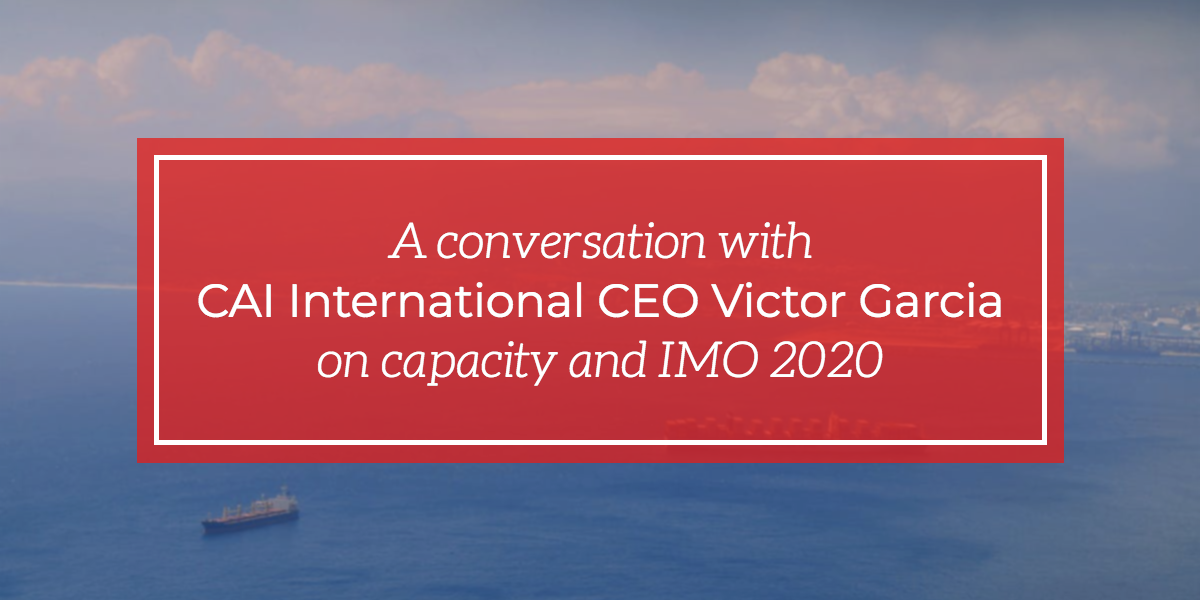 At the CSCMP Edge conference in Nashville last fall, CAI International CEO Victor Garcia sat down for an interview with Russell Goodman, the editor-in-chief of Supply Chain Brain, to share his thoughts on the capacity crunch that affected the global logistics sector for all of 2018, as well as the challenges involved in IMO 2020.
Citing the "unprecedented demand" that CAI's international marine container business has experienced for over 18 months, Garcia described the first half of 2018 as "one of the tightest markets we've seen over the last three or four years."
Garcia mentions concern over potential international tariffs as a possible cause for some of the increased demand. However, he also notes that the booming demand wasn't contained to areas affected by the possibility of tariffs, as CAI's European and inter-Asia container businesses also experienced rapid growth in 2018.
Goodman also asked Garcia for his thoughts on how IMO 2020— which is intended to reduce sulfur emissions rates from 3.5% to 0.5%— would affect freight rates and capacity. To accomplish this, Garcia says there are two possible ways to address this challenge: through the use of scrubbers to reduce sulfur emissions, or by switching to low-sulfur fuel, which is currently at a substantial premium.
Noting the complicated nature of this ambitious environmental regulation, Garcia says, "The real question is: how is that going to be passed on into the market? Who's going to bear that cost? That's a real issue now between shippers and ship owners."
Watch the full video below:
It's important to keep an eye on what's coming in the future when making decisions about your company's logistics operations. But in such a fast-paced industry where no two days are the same, staying up to speed can be a challenge. Subscribe to our newsletter to get valuable insights delivered right to your inbox, or reach out to us about how partnering with CAI Logistics can put your company's operations on the right track for long-term success.