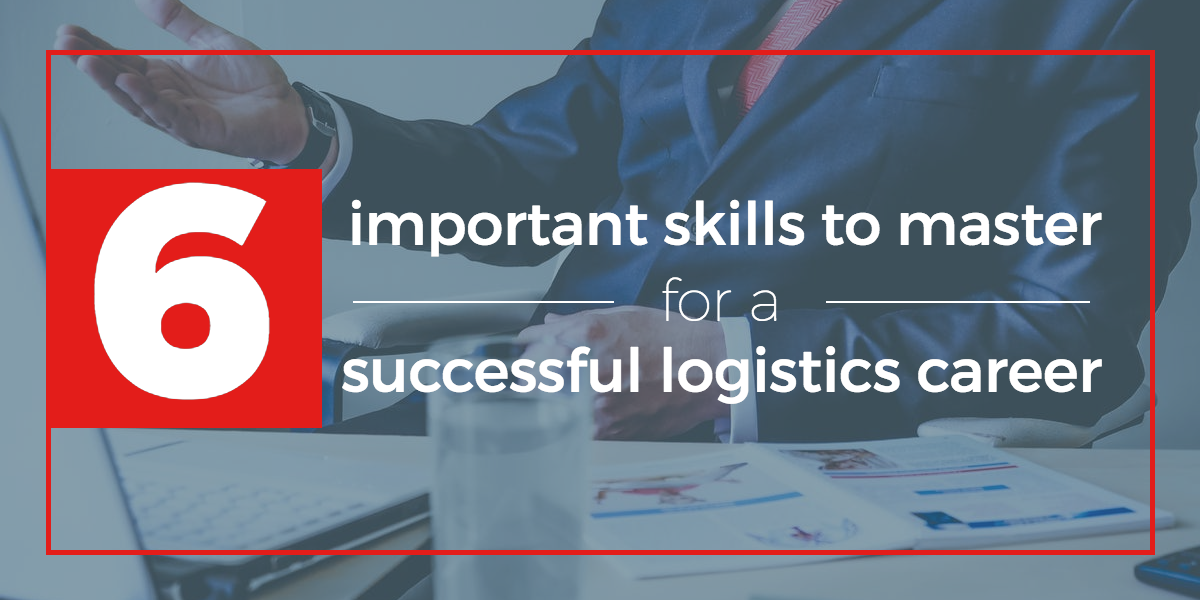 In the midst of an e-commerce shopping boom, companies are searching for logistics leaders to help establish competitive advantage in this time of tremendous economic growth. As a supply chain professional, it's imperative you develop your skills so you can add value to companies and stay competitive in this ever-changing logistics landscape.
We've searched dozens of job-listing sites and industry articles to bring you the most sought-after skills in the industry. Master these skills and you'll have a very promising logistics career.
Important skills for any supply chain professional
People Skills
Many companies have people skills at the top of their job listings—and for good reason. Working well with others will help you achieve more success than you could have on your own. As a supply chain professional, this skill is especially important because you'll have to harbor cooperation with a wide range of professionals to accomplish the complicated tasks of a logistics operation.
It's important you're clear when speaking about complicated logistics solutions. Clarity will help you be better understood by peers and more persuasive when negotiating outside business arrangements. No matter the situation, you'll want to be empathetic and personable with everyone you interact with. This will help you build the mutually-beneficial and long-lasting business relationships required in this industry.
Try out these resources for improving your people skills:
Written communication
As a shipping manager, you need to communicate with many different professionals, such as VPs, CIOs, shippers, carriers, government officials, freight managers, and more. You most likely don't have time to be on the phone or in a meeting every time something comes up. Getting something wrong in an email can cause confusion and frustration that can impede progress in your chain. By mastering written communication skills, you can communicate effectively and efficiently.
Improving your writing is hard. It takes time to make your messages clear and to be well-received by readers. To get you started, here are some articles to write better emails and improve your business writing.
Tech skills
Logistics technology has advanced since the days of the Microsoft suite. Today's logistics professionals must be familiar with complicated logistics management software to accomplish their tasks and get visibility into their supply chain. These technologies include transportation management systems (TMS), accounting software to track POs, and Electronic Data Interchange (EDI) to manage orders and track invoices, and enterprise resource planning systems, to name a few. And this is only the tip of the iceberg. From the Internet of Things (IoT) to machine learning and cybersecurity, technology in the logistics industry is advancing at a rapid pace.
Adopting these modern technologies will not only help your productivity but also enable you to quickly adapt to changes and make informed decisions for your business. Take the initiative by asking your employer about any software training opportunities.
Understanding of Economics
Logistics managers must peer into the future of tomorrow to make better buying decisions today. With a strong understanding of economics, you'll be much better at making the right business decisions. This will help you negotiate spot rates, secure capacity, forecast future transportation costs and reduce total landed costs. This will enable you to better predict how market trends will impact your business.
Monitor market trends and track land prices with websites like DAT, the Internet Truckstop, and the CAI Transportation blog.
Problem-solving
With all the complicated, moving parts that make up the supply chain, running into problems as a logistics manager is inevitable. Variables like spot rate prices, gas prices, and demand for goods seem to fluctuate by the day. You can also be blindsided by a sudden lack of capacity from random weather events, port closures, and even miscommunications among your team or vendors. Letting these issues slip through the cracks will cause late deliveries and additional shipping costs, which may negatively impact your bottom line.
It's imperative logistics managers are able to make swift corrections when problems arise. Staying in the loop with industry issues will help equip you with an arsenal of solutions to tackle every problem. Here are some great articles offering solutions to recent industry problems:
Flexibility
Change is a constant in logistics. Sometimes drivers show up late or with the wrong equipment, weather can cause unpredicted delays, and the capacity you thought you had may be sold off to a higher bidder. When this happens, it's up to the manager and their logistics partners to come up with fast and creative solutions.
Flexibility will help you adapt to changes in consumer demands, government regulations (such as the ELD mandate), and industry trends and best practices. To remain flexible you'll need to stay up-to-date with the latest industry trends. Make sure to subscribe to updates from thought leaders to stay informed with relevant industry insights.