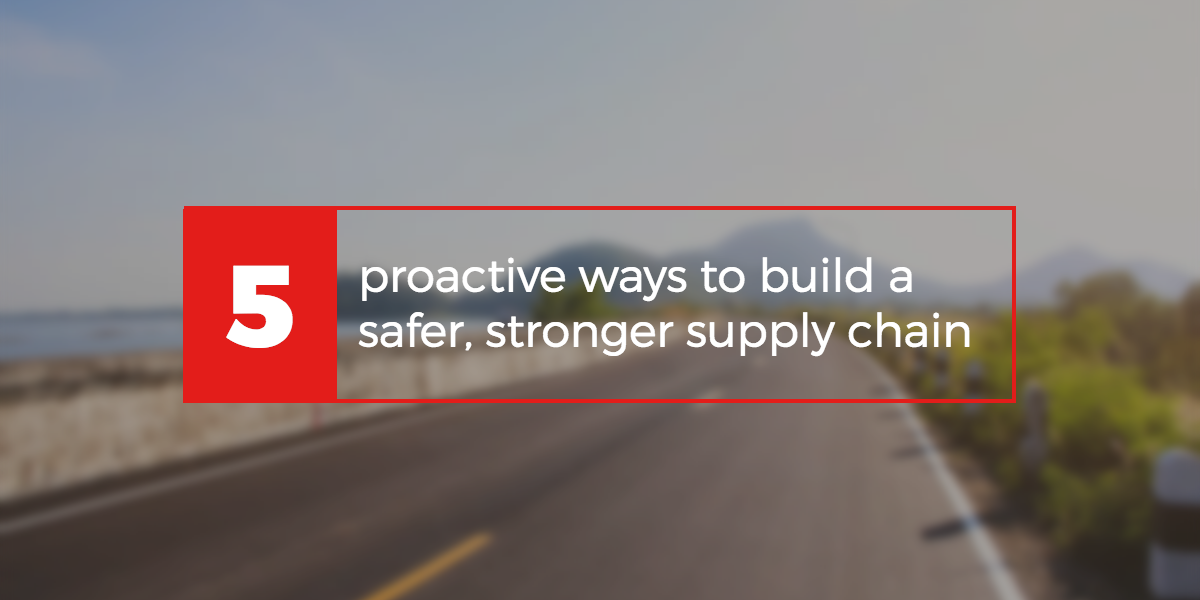 Changes in the way companies operate today make supply chain management even more crucial in the global economy. Technological developments, shifting political and economic landscapes, and other factors may push organizations to make changes to their supply chain practices. But if these decisions aren't made with long-term sustainability in mind, they can hurt companies more than they help. With regulators and consumers increasingly concerned with supply chain safety, it's more important than ever to pay close attention to the quality of goods, waste management, environmental impact, and transportation security.
If health and safety aren't a daily consideration in your supply chain, it's time to make some changes. Let's look at five proactive ways to create a safer, stronger supply chain.
Build visibility and transparency
Smarter data and intelligent technology will provide more opportunities to enhance your supply chain, and ensure products are safe and secure. Adding transparency to your units (whether it's manufacturing, transport, warehousing, inventory, or staff) improves supply chain operations and minimizes quality problems.
Sensor technology enables 24/7 monitoring of cargo, providing the location and condition of your freight. If there's a possibility of spillage, damages, or theft, suppliers can take steps to mitigate those risks. Enhanced clarity in your supply chain can also reduce mistakes, missed deadlines, and compliance violations. Using technology to anticipate future complications will allow you to make informed decisions about your capital.
At CAI Logistics, we manage risk by providing accurate monitoring and tracking updates throughout the logistics process. Our transportation management system (TMS) communicates in real-time with transportation providers, allowing suppliers to identify potential issues and threats and make necessary changes before it's too late.
Consider an intermodal strategy
When you're moving sensitive or heavy freight, you may want to consider alternative capacity solutions. While trucking is a flexible way to transport goods, intermodal shipping offers several key advantages.
Moving freight by train allows shippers to sidestep common highway obstacles, such as construction, accidents, closures, and bad weather. Hazardous materials are better guarded against theft and damage due to minimal handling and limited impact from weather. For the environmentally conscious, it's worth noting that train transport is also less carbon intensive; one ton of freight can travel by rail for 450 miles on a single gallon of fuel. An intermodal strategy allows shippers to take advantage of these features of train transport for some of the journey, while enjoying the flexibility and visibility offered by highway shipping for the rest.
At CAI Logistics, we're proud of our safety record and policies to ensure safe transport of your cargo. Our experience and industry knowledge help us successfully manage the complexities of domestic and international shipping.
Develop risk management protocols
Threats can come in many shapes and sizes. Natural disasters, warehouse accidents, counterfeit, contaminated products, technological problems, and theft can happen. When the unexpected arises, it's important to have risk management protocols in place to mitigate disruptions in your supply chain.
These high-level risk management practices can help reduce the likelihood of adverse events:
First, identify your supply chain elements, processes, and stakeholders. Conducting international business introduces a wide range of financial, regulatory, and legal risks to your supply chain. Knowing who and what impacts your processes makes it easier to understand and plan proactively for complex operations.

Next, optimize for different contingencies. Create assumptions about factors such as demand, costs, and availability. By adjusting variables, you can formulate action plans for future threats.

Plan ahead by identifying and formalizing an action plan or playbook. As unforeseen circumstances occur, this action plan will help your team know how to react.
While it's not possible to control everything, lean on your logistics partner to provide creative solutions and additional options when things don't go as planned. This will help your supply chain operations to run smoothly and will allow you to react quickly to volatility in the market.
Qualify your carriers and providers
There are many moving parts to consider when transporting materials, including liability, safety protocols, regulatory restrictions, and more. That's why it's best to work with a qualified network of providers equipped with the right knowledge and expertise.
But how can you know which providers are qualified? One way to qualify carriers is by looking at compliance, safety, accountability (CSA) scores. Scores are based on indicators such as hazardous materials compliance, vehicle maintenance, crash incidents, and driver fitness. Working with carriers who have good CSA scores ensures safe, efficient service. Carriers and providers with poor scores or lack of consistent credentials may add risk to your shipping process and affect your company's reputation negatively.
You should expect the best service to transport your freight. By analyzing data or calling upon existing relationships with trusted carriers, your 3PL can find the providers who are best suited to your needs.
Work with a certified logistics partner
Certified 3PLs have proven their strict adherence to quality, compliance, and security standards issued by government agencies worldwide. With good relationships with networks around the world, they're able to provide an exceptional experience.
Certifications like Customs-Trade Partnership Against Terrorism (C-TPAT) or Hazardous Materials adds a higher level of protection. Certified members address various areas of safety such as:
container conditions (managing how containers are sealed and stored).
access controls (screening and managing people in facilities).
procedural security (writing clear documentation).
information technology security (securing passwords and files).
If you partner with a certified logistics partner, you'll have the peace of mind knowing your cargo receives the highest standards of handling. A reputable 3PL goes the extra mile to combat threats, and find solutions for your company's transportation safety concerns.