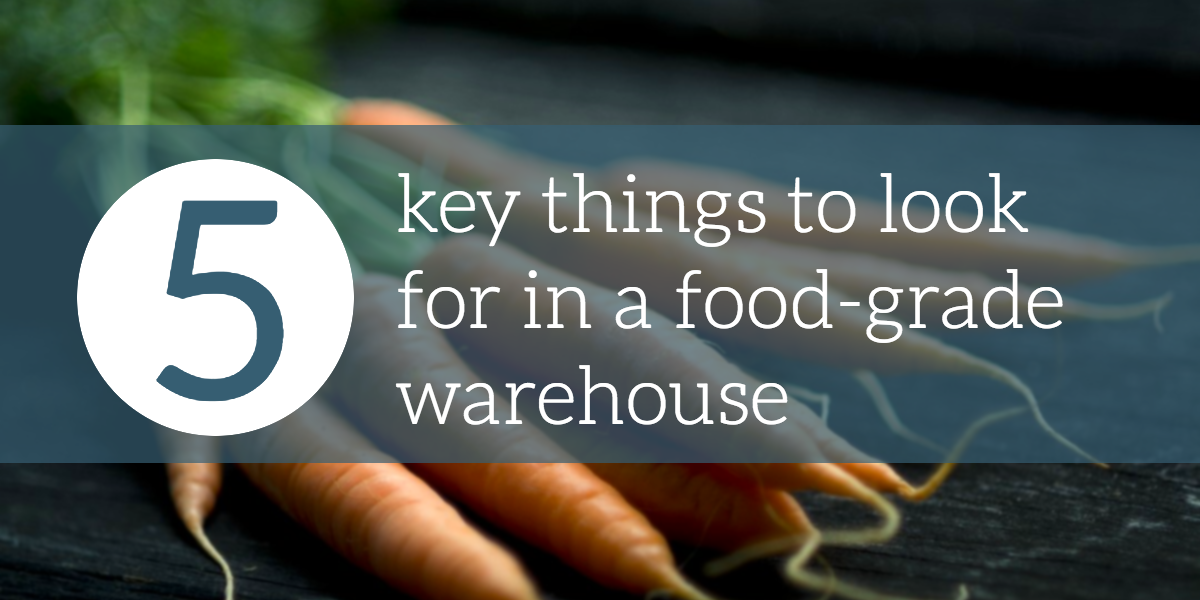 According to the CDC, around 3,000 people die every year from foodborne illness in the United States. This year, an estimated 1 in 6 people in the U.S. will become sick from a food-related illness. Food safety is not a luxury. Every component of the food and beverage supply chain must adhere to safety standards, beginning at farms and continuing all the way to the tables of consumers.
The food supply chain has its own unique set of challenges in addition to the standard complications of supply chain management. Food and beverage companies have more regulations to comply with, another set of standards for equipment, handling, and storage, and a laundry list of ways things could potentially go wrong resulting in dire consequences for consumers.
In addition to the logistics of moving goods from A to B, you need to ensure the utmost safety and quality for your consumer. When it comes to choosing a logistics partner, a freight carrier, or a warehousing facility, you want to be confident that you can rely on them to help your food supply chain run smoothly and safely.
As a supply chain manager in the food and beverage industry, you've got a full plate. Your goal is to get orders out on a timely basis and ensure your goods meet safety standards. When looking for a food-grade warehouse, food safety concerns is probably on the top of your list. How can you be sure your warehouse will provide top-quality, food-grade facilities and equipment for your goods?
Before choosing a food-grade warehousing provider, consider the following:
Warehouse needs
Do your goods need to be at a regulated temperature, refrigerated, or frozen? Do they need to be kept in dry conditions? Identifying your specific warehouse needs is an important first step in the process so you can filter out any facilities who cannot provide the conditions your goods require. In addition to temperature, you will also need to define any specific needs around containers, storage, and handling.
Registration and certifications
You know the stakes are high in the food and beverage industry, so having a clean and sanitary facility that's free of bacteria, pests, and other potential threats to hygiene and food safety is a primary concern. When considering partners for your food supply chain, you should start your screening with registration and certifications. If a company is not registered with the U.S. Food and Drug Administration (FDA) don't give them a second look. The FDA requires registration, and facilities must provide documentation upon request. Facilities undergo FDA inspections every three years to ensure facilities meet food safety standards, including those set in the Food Safety Modernization Act (FSMA). In addition to federal regulations, food-grade warehouses should also meet non-government agency standards. Other quality standards to look for include certifications from the Safe Quality Food Institute (SQF) and AIB.
The SFQ standards and certifications look at food quality and safety across the entire supply chain, "from farm to fork," as the SFQ codes says. AIB inspections rate the food-grade quality and safety of warehouse facilities, including equipment, pest management, and preventative safety measures.
Facility conditions and standards
After verifying certifications and inspections ratings, ask about the hygiene standards for personnel, facilities, and equipment. Every warehouse, vehicle, and storage container involved in the supply chain should meet these standards. Ask to see the warehouse's master sanitation schedule accompanied by a detailed outline of the cleaning process. Confirm employees receive regular training on food handling and hygiene.
Prevention plans
Under FDA regulations, all food packing, manufacturing, and storing facilities must develop a written plan for the prevention of food contamination. The plan must include the following:
possible problems that could occur in the facility.

the solutions to these potential problems should they occur.

the measures the facility will take in order to prevent these problems.
You may request to see a warehouse's plan documentation to ensure prevention strategy is key to the facility's everyday functioning. You want to be sure they're prepared to stop problems before they start.
Product recalls
Even with the best-laid plans, food recalls still happen. Does the warehouse have a strategy in place to handle product recalls? Will the facility be able to react quickly under a voluntary recall before the FDA puts a mandatory recall into effect? For food-grade warehouses, maintaining an effective recall strategy should be part of the ongoing planning process for quality and safety for the facilities and its workers. All personnel should be trained not only on food safety standards, but also on what to do in the event of a recall.
If you don't want to get stuck with one more truck or warehouse that doesn't meet the requirements of your product, lean on a 3PL to handle the process. With a trusted 3PL, you can rest assured knowing your product is taken care of and your time can be spent focused on your job, not putting out fires and scrambling to find a new vendor at the last minute.
When choosing to work with a logistics partner to help you find vendors for your food supply chain, from freight carriers to warehouses, you want to know you're working with someone you can trust to take every precaution and exceed federal regulation standards. CAI Logistics holds all transport and storage parties accountable to the highest compliance and condition standards. We thoroughly vet our carriers and warehouses to ensure your goods will be handled with care and provide you with visibility into the entire process.
At CAI Logistics, we have years of experience working with partners in the food and beverage industry. No matter the challenges you face in handling food logistics, we offer creative and custom solutions to keep your process moving. Contact us today to learn more about the solutions we can provide for your food supply chain.